Puigdemont claims terrorism allegations aim to persuade Belgium to extradite him
Former president's sister flatly denies media outlet reports of meeting with imprisoned pro-independence activists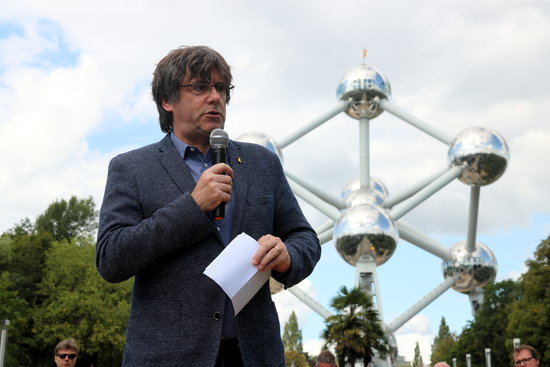 The former Catalan president, Carles Puigdemont, has suggested that Spain's judiciary is trying to embroil him in terrorism allegations in order to persuade Belgium to extradite him after the failure of two European arrest warrants issued by Madrid.
"This is lawfare taken to its limits: from rebels to terrorists in order to try to manipulate, again, the European arrest warrant procedure. They will fail again," he tweeted. "Because all they will find is that we continue as we always have: with democracy, civility and non-violence."
La lawfare portada a la seva màxima expressió: de rebels a terroristes per intentar manipular, altre cop, el procés d'euroordre. Tornaran a fracassar. Perquè només ens trobaran en l'única via que sempre hem seguit: la de la democràcia, el civisme i la no-violència.

— Carles Puigdemont (@KRLS) September 29, 2019
Puigdemont's comments came as a reaction to Cadena SER radio station reports claiming the former president's sister, Anna, held a meeting with five of the pro-independence activists provisionally jailed last week on terrorism allegations.
Reported "secret" meeting
Cadena SER says this supposed meeting is part of the judicial investigation into the seven activists now behind bars, and is mentioned in the judge's decree ordering their imprisonment, which has not been officially released.
According to the same report, the meeting was "secret" and aimed to "hand over sensitive documents and set up secure communications" between Carles Puigdemont and his successor as Catalan president, Quim Torra, through the former's sister and the activists.