Pro-independence parties clash over deal with Socialists
Esquerra party calls on government partner JxCat to break off deal with unionist PSC to run Barcelona's regional council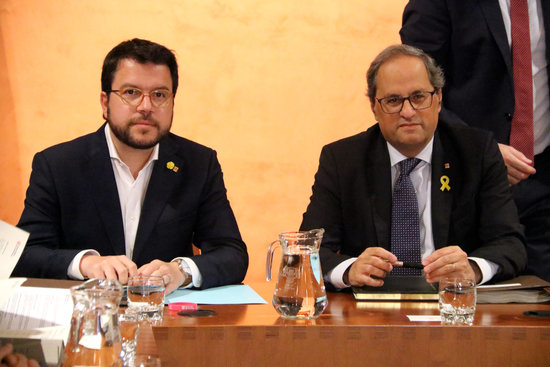 The search for a common strategy among Catalonia's pro-independence parties has come under threat after Catalan government coalition partners Esquerra (ERC) and Junts per Catalunya (JxCat) fell out again over the weekend.
Relations between the two main parties in favor of a Catalan Republic have often been rocky and the latest row erupted on Friday, when JxCat announced an agreement to run Barcelona's regional council with the Socialists (PSC).
ERC, party of jailed pro-independence leader Oriol Junqueras, was highly critical of the pact between exiled former president Carles Puigdemont's party and PSC, which is against independence and backed the suspension of Catalonia's self-rule in 2017.
ERC: Agreement an "incomprehensible strategic error"
Calling the decision an "incomprehensible strategic error," leading members of ERC began pressuring its coalition partner to break off the agreement, claiming "JxCat has time to rectify" before the council's inaugural session on July 11.
With ERC expressing concerns that the agreement is part of a strategy to keep them out of power - Barcelona's regional council is the country's third largest political institution - JxCat insisted that "the pact will not affect the Catalan government."
In fact, Puigdemont's party responded to the accusations from its coalition partner by pointing out that in 26 local authorities ERC has prioritized agreements to govern with other leftwing parties, and choosing to "kick out" its coalition partner.
Torra and Puigdemont meeting to discuss crisis
On Monday, president Quim Torra and Puigdemont are to head a meeting to discuss the crisis with ERC, three days after a summit was held in Geneva in which the parties and organizations in the pro-independence camp met to come up with a common strategy.
As for the Socialists, their leader Miquel Iceta called on both parties to "respect" their agreements with PSC and expressed "surprise" at the criticism over making deals with his party "when they do they same thing in the town next door."
ERC's new proposal
On Monday morning, Esquerra announced that they would let JxCat maintain the Barcelona regional council presidency if they entered into an agreement with them and broke the deal that has been brokered with the Catalan Socialists over the weekend, thereby entering into a pro-independence coalition.