Pressure on Spanish defense minister and head of intelligence continues over Catalangate
"You should step down," insist pro-independence groups ahead of official secrets congressional committee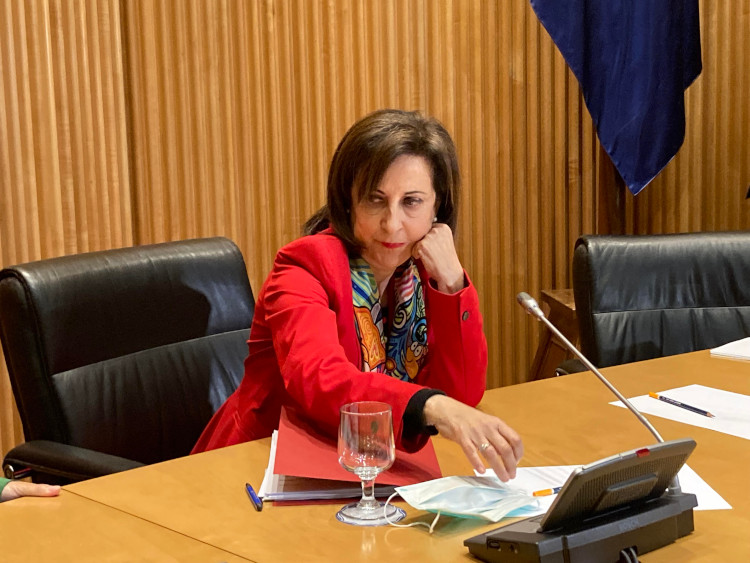 Spain's defense minister, Margarita Robles, continues to face calls to step down over the ongoing espionage allegations scandal affecting over 60 pro-independence figures, including politicians, lawyers, journalists and activists.
Robles was targeted by several parties about Catalangate while attending a defense parliamentary committee in congress on Wednesday.
While no signals of her stepping down or being sacked were given, several pundits, as well as MPs talking at the committee, believe that the director of the Spanish intelligence center (CNI), Paz Esteban, may be removed from her post shortly.
On Tuesday, the Spanish government's spokesperson did not rule out resignations in the future, although she gave her "full support" for Esteban.
Pressure is mounting on both Robles and Esteban ahead of the first session of the official secrets congressional committee since Catalangate broke out, which will convene on Thursday at 9am – the head of CNI will appear before MPs, including pro-independence lawmakers for the first time, but the outcome of discussions in the committee is kept secret.
Furthermore, the 1968 official secrets law, enacted during the era of dictator Francisco Franco, is still in force and the Spanish government has reminded people that the law prevents authorities from revealing the activities of the CNI.
Addressing MPs on Wednesday, Robles expressed "pride" in Spain and the 3,000 workers of the intelligence service.
"We have nothing to hide," she added, saying that public servants act solely within the legal framework.
Facing criticism from several parliamentary groups, she blasted them, saying that they are "talking without evidence" when accusing the Spanish state of having plotted the hacking of dozens of phones.
Robles infers that protests justify espionage
Despite not giving any specific details or confirming suspicions, Robles inferred that the Catalan independence push justifies Spain spying on political opponents.
According to her, the state has to make a move "in the event of violent situations that may be against the law, when barricades are formed and the airport is blocked," implicitly referring to the demonstrations that took place in Catalonia in October 2019 after nine pro-independence leaders were given decade-long prison sentences.
"When summoned by the judiciary, some appear in court, and they are even convicted, while others do not appear and abscond," she added, referring to former president Carles Puigdemont.
Last week, Robles also seemingly justified espionage, speaking in congress: "What should a state, a government do, when someone violates the constitution, someone declares independence, when someone blocks off roads, when someone leads public disorder, when someone has relations with leaders of a country that has invaded Ukraine?"
'You have no credibility, you have to step down'
During the committee meeting on Wednesday, pro-independence parties called on Robles to reveal who is behind Catalangate and asked for an explanation, although at first the chairman of the committee rejected the issue being discussed in the session.
"Minister, there is a storm out there and you are at its eye," said far-left MP Mireia Vehí. "Do you think that sacking the CNI's head, as the intelligence agency itself is leaking, will save you and Spain's PM?".
"You have no credibility, we are lacking trust in you," said Junts' Josep Pagès. "What an image Spain is giving one month before the NATO summit [in Madrid]".
"In a full democracy, you should step down or be sacked," Esquerra's Montse Bassa said. "If you want to know about Catalan president Pere Aragonès, instead of spying on him, why don't you sit at a negotiating table with him?"
What is Catalangate?
Catalangate is the name that Citizen Lab, a University of Toronto-based research group that reports on high-tech human rights abuses, gave its investigation into the espionage of several Catalan pro-independence politicians, activists, and their close associates.
It is "the largest forensically documented cluster of such attacks and infections on record," the New Yorker said in an article published on April 18.
Phones were infected using spyware programs Pegasus and Candiru. Pegasus, made by Israeli company NSO Group, is known internationally for alleged previous infections of people such as murdered Saudi Arabian journalist Jamal Khashoggi and members of Rwanda's opposition party.
Candiru, founded by former NSO Group employees, is not as well known but is similar to Pegasus.