Spanish defense minister, on espionage: 'What should a state do when someone declares independence?'
Margarita Robles backs intelligence agency over Catalangate: 'I do not know The New Yorker'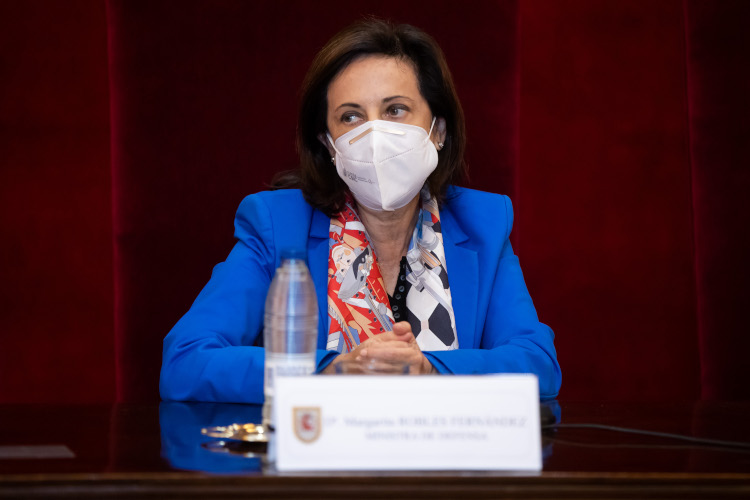 The pressure on the Spanish government to take action over Catalangate espionage scandal continues to grow.
MPs in Spain's upper and lower chambers have repeatedly asked government members about the issue between Tuesday and Wednesday, while Catalan officials announced this week that they will request the Spanish intelligence agency's contracts with NSO Group, the owner and manufacturer of Pegasus spyware.
In congress on Wednesday, Spanish defense minister Margarita Robles faced four questions on the matter, and she repeatedly said that the official secrets law prevents her from giving explanations on the Spanish intelligence center (CNI), although she said her government always acts within the legal framework.
Yet, in the fourth question on the matter, raised by CUP's Mireia Vehí, she said, mentioning recurrent accusations to the independence movement: "What should a state, a government do, when someone violates the constitution, someone declares independence, when someone blocks off roads, when someone leads public disorder, when someone has relations with leaders of a country that has invaded Ukraine?".
In one of her responses on Tuesday, she downplayed the case first reported by The New Yorker magazine and Citizen Lab research group on April 18.
"I usually do not give my opinion about what media say. You talk about 'The New Yorker,' I do not know this media outlet, I do not know what sources it uses," said Robles in the senate on Tuesday, sparking a wave of comments on social media.
Spain's PM pledges 'transparency, objectivity, and holding accountable'
On Wednesday, Spain's PM, Pedro Sánchez, talked for the first time about the Citizen Lab report listing at least 65 pro-independence activists and politicians who have been spied on through Pegasus software.
"In the past few days, my government has stated its will to cast light on these events, with transparency, objectivity, holding accountable and within the legal framework," he said.
The cabinet recently announced opening an "internal investigation" in the CNI as well as organizing a secrets committee in the Spanish Congress in response to Catalangate. Also, declassifying documents in court if needed has been suggested, but none of these actions have been seen as sufficient by the Catalan authorities.
In congress, Sánchez also said that his executive is committed to dialogue with Catalonia. "I would like to ask you to rebuild trust in Catalonia," he said to pro-independence ERC MP Gabriel Rufián.
20-cent discount on oil may be collateral damage of Catalangate
Indeed, Rufián is the leader of ERC in Madrid, and his parliamentary group is key to ensure the Socialist-led government is backed by a majority of MPs. Yet, when the Catalangate broke out, the Catalan president, Pere Aragonès, announced he was freezing relations with Madrid. His party is now not guaranteeing to maintain its support to Sánchez.
On Thursday, the congress will vote whether to ratify the measures enforced in order to withstand the Ukraine war effects, including a 20-cent discount per liter of oil in all stations. The support of MPs had been taken for granted, but it is not clear anymore. If the vote did not succeed, the reduced price of oil in force from April 1 (and planned to be up and running until June 30) would no longer apply.
Mounting pressure of Catalan pro-independence movement
The Catalan government will request the Spanish intelligence agency's contracts with NSO Group, the owner and manufacturer of Pegasus spyware, the spokesperson said on Tuesday.
In congress on Wednesday, pro-independence parties, such as Junts per Catalunya's Míriam Nogueras, insisted that a secrets committee is not enough, and an investigation committee on Catalangate needs to be launched.
"The question to be raised is whether your government ordered the espionage," Rufián told Sánchez.
What is Catalangate?
Catalangate is the name that Citizen Lab, a University of Toronto-based research group that reports on high-tech human rights abuses gave its investigation into the espionage of over 60 Catalan pro-independence politicians, activists, journalists, and their close associates.
It is "the largest forensically documented cluster of such attacks and infections on record," the New Yorker published on Monday.
Phones were infected using spyware programs Pegasus and Candiru. Pegasus, from Israeli company NSO Group, is known internationally for its previous infections of renowned people, such as murdered Saudi Arabian journalist Jamal Khashoggi, or members of Rwanda's opposition party.
Candiru, founded by former NSO Group employees, is not as well known but is similar to Pegasus.