President suspends agenda after coalition partner's motion of confidence threat
Junts believes Pere Aragonès has to ask MPs whether they still support him if no changes in independence campaign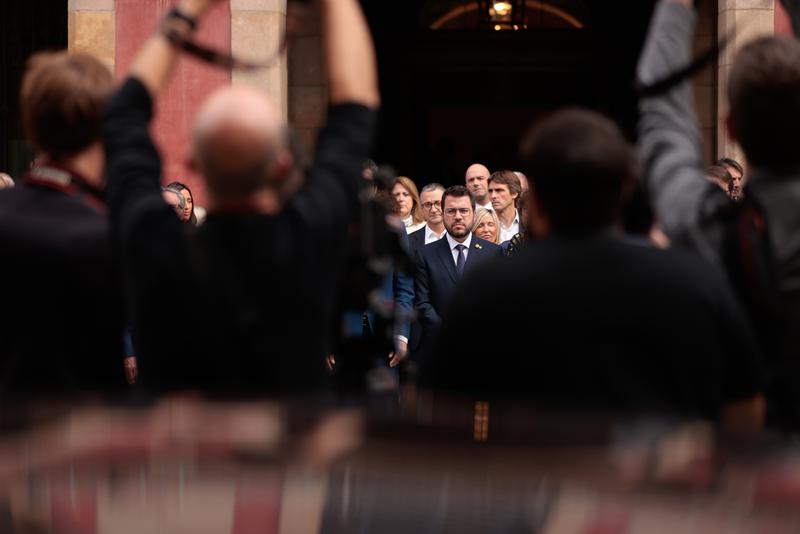 Catalan president Pere Aragonès suspended his public agenda on Wednesday after the junior coalition partner in his government, Junts per Catalunya, threatened him with a motion of confidence "if there are no guarantees" that the coalition agreement signed in May 2021 is complied with.
On Tuesday evening, Junts' spokesperson, Albert Batet, struck a firm tone against the president during the first session of the annual general policy debate in parliament.
He repeatedly underlined the importance of complying with the deal between his party and Aragonès' Esquerra which led to the beginning of the current term.
In the weeks building up to the general policy debate, many voices within the Junts party were raising the possibility of abandoning the government. A high-profile crisis meeting between leaders of each party in mid-September led to no agreement, and Junts wants to see a clear pathway toward achieving both parties' stated goal of creating an independent Catalonia.
"We cannot continue like this," said Batet, saying that the main points Junts want to see complied with are "a strategic joint path towards independence, coordination in Madrid [among the pro-independence groups in the Spanish congress] and talks [with the Spanish government on independence,]" as Batet explained. "We need a response to this."
CUP to ask for a motion of no confidence
The other pro-independence party that supported Aragonès as president last year but remained in opposition, CUP, said on Wednesday that they would put forward a motion to demand a motion of no confidence in the head of government. The anti-capitalist party agreed with Esquerra shortly after the February 2021 election to back their leader for president in exchange for a motion of confidence in 2023 in which they could confirm or withdraw their support.
Yet, while Aragonès originally accepted the deal, he went on to reject it some months later since CUP failed to back the government's 2022 budget.
How motion of confidence and no confidence work
Motions of confidence are put forward by the president, after having discussed it with the government, in an attempt to strengthen their position and make clear they have the support of lawmakers.
If a majority of MPs back the president, no changes are made in the cabinet since it is understood they have the chamber's confidence.
Yet, if there are a majority of negative votes, the president is automatically ousted and the parliament has to appoint another MP as head of the government – if they fail to do so within ten days, a snap election would be called.
Meanwhile, a motion of no confidence is put forward by the opposition and a specific MP is proposed to take over. If an absolute majority of lawmakers support it, the proposed candidate becomes president. A fifth of the chamber or two parliamentary groups have to agree so that the motion can be taken into consideration and debate in parliament.