President's trial delayed until November 18
Court says it needs more time to decide on recusal requests made by Quim Torra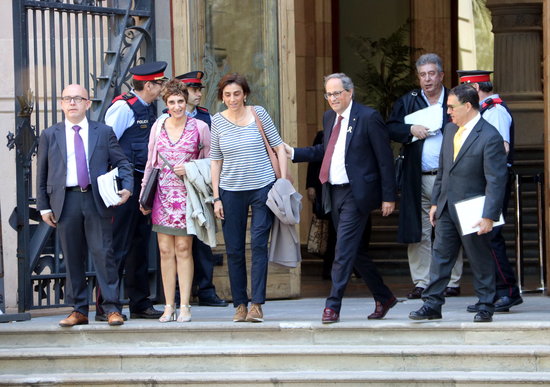 The trial of president Quim Torra was set to begin on September 25, but Spain's high court in Catalonia decided to postpone it on Friday to give more time to manage the recusal requests made by Torra's defense.
Catalonia's head of government had requested that Jesús María Barrientos and Mercedes Armas be removed from judging his case, in which he is charged for not taking symbols supporting jailed Catalan leaders down from the government HQ, on the grounds of a "glaring lack of impartiality."
A few days later, Barrientos and Armas stepped aside from the case while a decision is made. Shortly after that, Torra also demanded the removal of the judge considering his recusal request, Carlos Ramos, a demand that Ramos has since rejected.
The president's lawyers argue that Ramos has a "direct or indirect interest" in the case, and that he also has "close ties" to the Catalan Socialists, the unionist party that originally nominated him in parliament for the high court position.
Yellow ribbon row
In the run-up to the general election in April, Torra initially resisted the order to remove "partisan" yellow ribbon symbols in support of Catalan leaders charged over the 2017 independence bid from the government building during the campaign.
While Torra eventually complied with the order after the deadline, replacing the symbols with a banner promoting freedom of expression, the prosecutor decided to charge the president with disobedience, which could see him barred from holding public office.