President Torra to be judged for disobedience on September 25 and 26
Head of government could be barred from holding public office for not removing signs in support of jailed and exiled leaders from public buildings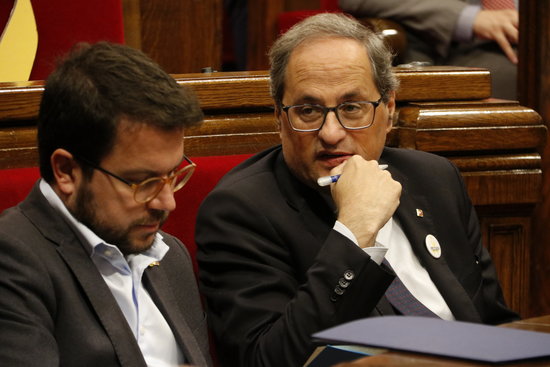 The Catalan president, Quim Torra, will be judged for disobedience on September 25 and 26 by Spain's high court in Catalonia (TSJC, its acronym in Catalan).
The reason: not removing signs in support of the jailed and exiled leaders from public buildings on time during the latest electoral campaign season, as requested by the electoral authority.
The public prosecutor has requested that Torra be banned from office for a year and 8 months, as well as receive a fine of €30,000.
This would mean that the Catalan president would be 'de facto' sacked, like his predecessor Carles Puigdemont, but by the judiciary and not the Spanish government.
Torra reacted to the news by claiming that the court had acted with "interested speediness," adding that "the justice system is slow only when it wants to be."
In a statement, the president's press office also said it would take the "appropriate" legal action against a procedural "irregularity" that brings the TJC's "impartiality" into question.
Torra's yellow ribbons case
The electoral authority's orders to remove the banners ahead of the April 28 Spanish election were issued after a complaint by opposition party Ciutadans, which argued that they would infringe upon the neutrality of public institutions during the electoral campaign.
The initial debate centered on the yellow ribbon symbols in support of the prosecuted pro-independence leaders, but Torra's decision to cover them up with white ribbons led the electoral authority to insist that they be removed.
Torra eventually had the banners and signs in public offices removed, but only after the final deadline set by the electoral board.
Instead, a new banner was hung on the government headquarters' façade, reading: "Freedom of opinion and expression. Article 19 of the Universal Declaration of Human Rights."
Although this was not challenged, the prosecutor launched a criminal lawsuit against him on March 27, leading to a judicial case that will be heard on September 25 and 26.
In a hearing on May 15, Quim Torra admitted having disobeyed the request. "Yes, I disobeyed, because I owe a debt to a higher public mandate to defend human rights," he said.
The TSJC's future verdict will not be final as Torra will be able to appeal it before the Supreme Court – in this event, a potential ban from public office will only be in force after a Supreme Court judges' decision.