Torra calls for judge hearing his case to recuse himself for 'lack of impartiality'
Lawyers say judge's publicly stated political opinions make him unsuitable to oversee president's disobedience trial on September 25 and 26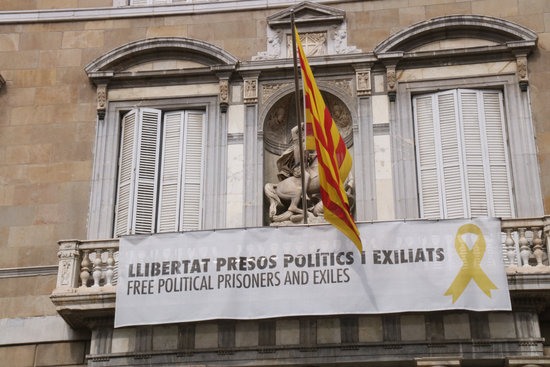 Quim Torra's defense lawyers have demanded that the judge overseeing the charge of disobedience against the Catalan president recuse himself because of his "glaring lack of impartiality."
Torra will face trial on September 25 and 26 after the electoral board accused him of defying an order to take down symbols in support of jailed and exiled independence leaders from the government HQ.
Presiding over the trial in Spain's high court in Catalonia, the TSJC, is Jesús María Barrientos, which Torra's defense say lacks "objective and subjective impartiality" due to his publicly expressed political opinions.
In a written request, the lawyer's say that Barrientos has openly taken a position on a number of issues related to the independence movement and "has a political stance that is diametrically opposed" to Torra's.
Torra clashed with the electoral board during the run-up to the general election, when he initially resisted orders to remove yellow ribbon symbols from the front of the Catalan government building during the campaign.
While Torra eventually complied with the order although beyond the final deadline, replacing the symbols with a banner promoting freedom of expression, the prosecutor decided to charge the president with disobedience and the TSJC decided to go ahead with the trial.
While the lawyers say it is legitimate for the judge to have political opinions, they insist that judges are expected to keep their opinions to themselves, as making them public "affects the image of impartiality that all those called on to judge should have."
Should Torra be found guilty of disobedience, it could see the Catalan president barred from holding public office.