President calls for accountability in meeting with EU Pegasus spyware committee
Foreign minister denounces cross-border espionage as Barcelona mayoral candidate questions campaign results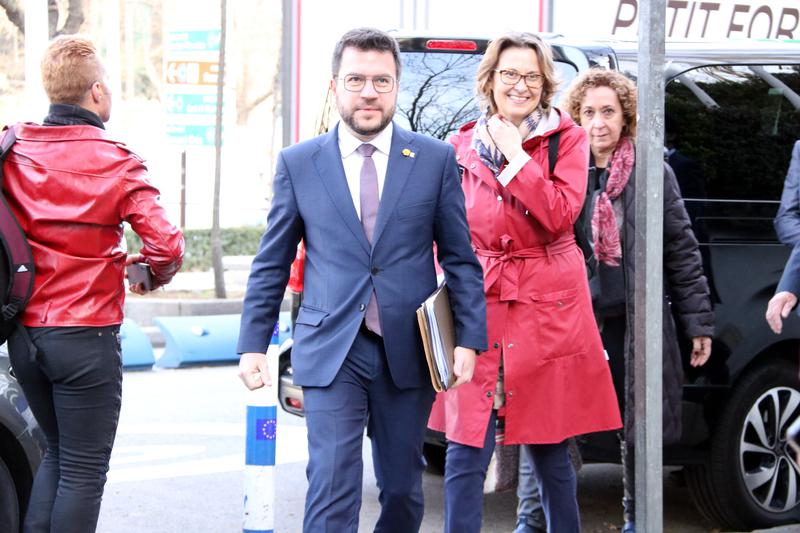 Catalan president Pere Aragonès, foreign minister Meritxell Serret, and Barcelona mayoral candidate Ernest Maragall met with the EU parliament committee investigating the use of Pegasus and equivalent spyware in Madrid on Tuesday morning to discuss the Catalangate espionage affair of which they themselves were victims.
"Some think defending the unity of Spain is more important than defending fundamental rights," Aragonès told the MEPs on the second day of their two-day trip to the Spanish capital to meet with politicians, journalists, and groups including the Catalan parliament's Pegasus committee, but not with any member of the Spanish government.
According to Aragonès, who is one of the 18 people Spain's National Intelligence Service (CNI) has acknowledged spying on, "knowing what happened" is key to "reparations" in a democratic system — the New Yorker and Citizen Lab research group estimate that over 60 people with ties to the independence movement were targeted with government-grade spyware.
The absence of transparency regarding the espionage of political opponents and their associates, he argued, "casts doubt on the quality of Spain's democracy."
"Nobody, not even the ombudsperson, has officially reached out to me," he lamented, adding that he has still not received a response to the complaint he filed last July to find out who authorized the espionage, what information has been accessed, and where it is being stored.
"How do I know I'm not being spied on now?" he said.
Cross-border espionage
Catalan foreign minister Meritxell Serret gave details of how she was targeted with government-grade spyware while she was an MEP.
"I was in Belgium," she told the committee, speculating that the order to infiltrate her phone "crossed the border of national sovereignty."
This, she argued, is evidence of the need to regulate the use of spyware across the EU. Far-left pro-independence CUP's Anna Gabriel was also allegedly spied on while living abroad, in her case in Switzerland.
Sophie In't Veld, the committee spokesperson, questioned whether the reason why Spain had only acknowledged some instances of espionage and not others had to do with the cross-border nature of cases like Serret's.
Serret also said she wished more victims had been granted the opportunity to speak to the committee and explained that not all had filed reports as "not everyone has the tools" to do so.
2019 Barcelona municipal elections
Ernest Maragall, who like Aragonès and Serret also belongs to left-wing pro-independence Esquerra Republicana, was targeted in April and May of 2019, around the time of the municipal elections in which he was running for Barcelona mayor.
"Can anyone doubt it had anything to do with that?" the former MEP asked. "And could it have had an effect on the result of municipal elections?"
Maragall, who is running again this year, won more votes than the current mayor, Ada Colau, but their parties obtained the same number of seats.
Colau secured a second term after her anti-austerity Barcelona En Comú forged a coalition agreement with the Socialists that was backed by Manuel Valls' BCN Canvi, now known as Valents.
Unionist MEPs defend Spain's democracy
People's Party MEP Juan Ignacio Zoido used his turn to speak to claim that Spain was a full democracy and said the alleged Kremlin plot to send 10,000 Russian soldiers to defend Catalan independence and "CDR terrorism" justified the espionage.
Ibán García del Blanco, a Socialist MEP, meanwhile, argued that "Spain does not go after ideas, but crimes."
No committee meeting with Spanish government
Pro-independence politicians criticized the Spanish government for "boycotting" the EU committee by not meeting with it in Madrid, but Spanish cabinet sources cited the regional holiday on Monday and the motion of no confidence instigated by far-right Vox against PM Pedro Sánchez on Tuesday as the reasons for this.
"The silence of the Spanish state is proof of the fundamentally political nature of this question," Maragall told the committee, describing it as "an ostrich that buries its head in the sand to not see, hear, or speak of the matter."