Political unity in remembering Catalan president executed at hands of Francoist regime
Lluís Companys, defender of Spanish Second Republic, honored with floral tributes in Montjuïc hill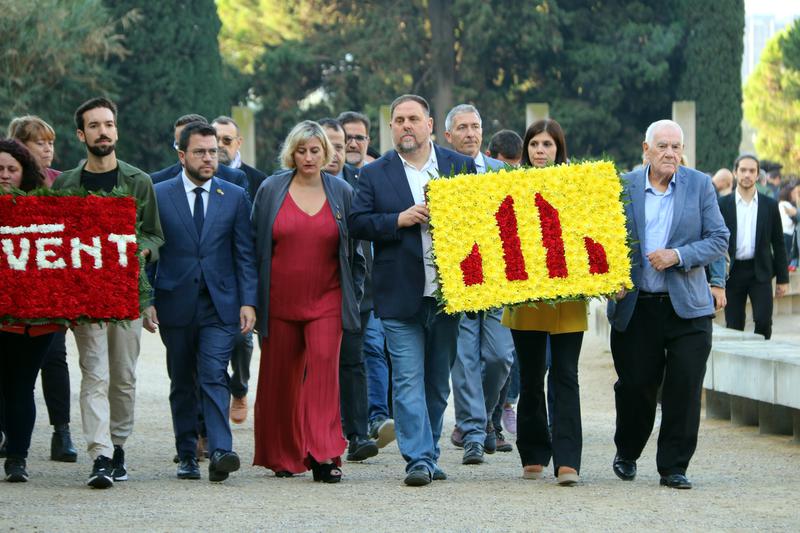 Catalan parties and pro-independence civil society organizations were united on Saturday in remembering the Catalan president executed at the hands of the Francoist regime, Lluís Companys. Coinciding with the 82nd anniversary of his death, political forces placed floral tributes by his gravesite on Barcelona's Montjuïc hill.
The day came in the mid of a new pro-independence campaign crisis, as Junts per Catalunya, the junior coalition partner left the cabinet one week ago. Esquerra Republicana de Catalunya, the party of which Companys was a member, is now solo governing the territory for the first time since 1934.
In fact, it was Lluís Companys himself on January 1, 1934 who formed a coalition government with several political forces at the time, after the sudden death of the previous president, Francesc Macià, who passed away on December 25, 1933 and had been ruling with a cabinet only formed by members of ERC.
Now, several decades later, Esquerra is ruling alone once again facing many challenges, among them a government in minority and a potential shift to far-right movements in Spain.
The situation pushed Aragonès to defend the "time to recover the antifascist move," and to "stop extreme far-right movements," he said during his institutional speech after laying the floral tribute.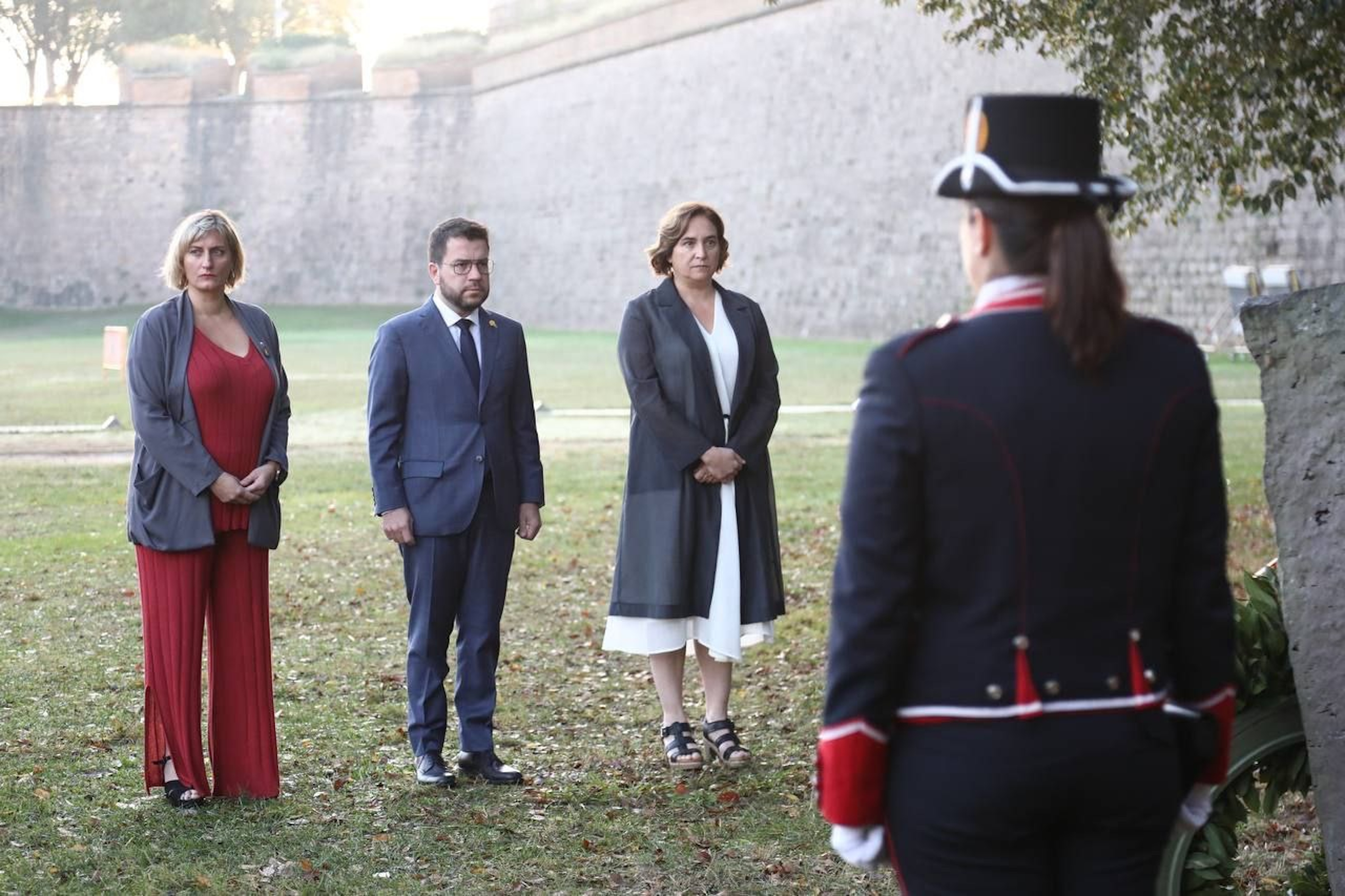 "If we forget fascism existed, fascism returns," the president added when remembering Companys as a leader in fights such as "social justice, equal opportunity, and Catalonia's freedom."
On a similar note, Junts' secretary general Jordi Turull compared Company's execution by firing squad outside Montjuïc's castle to the current judicial repression against pro-independence figures.
"The mentality of burning up Catalan institutions and leaders continues up to these days in many estates," Turull said.
"Officials may not do it with firing squads anymore, because now execution squads wear judge's robes," he added before remembering those politicians "on exile," referring to former president Carles Puigdemont, and former ministers Toni Comin and Clara Ponsatí, among other pro-independence figures.
Not only do pro-independence parties honor Companys
Some of the first in honoring Lluís Companys were the leaders of the Socialist party with Salvador Illa, head of the opposition and former Spanish health minister, as its main figure.
Companys "was able to keep convictions and dignity, he gave life to Catalonia," Illa said hours after during a PSC congress.
Later in the day, Barcelona mayor Ada Colau, accompanied by her team in the city council also remembered the executed Catalan president.
Colau, however, took the opportunity to highlight the importance of having a 2023 Catalan budget, one of the main challenges the current government is facing after Junts left the executive.
"We are worried to see weak institutions, we need to strengthen them with broad and strong majorities," Colau said.
Lluís Companys, executed at early hours
On October 15, 1940, in the early hours of the morning, the life of Lluís Companys tragically came to an end.
Like many others during the Civil War and ensuing Francoist dictatorship, the former Catalan president was executed by firing squad outside the castle on Barcelona's Montjuïc hill, which at the time was a military prison - only in 2007 was it fully returned to the local council.
Becoming president on January 1, 1934, Companys ruled in a coalition government.
But, not even a year later, and as conservatives ruled in Spain once again, on October 6 Companys declared that Catalonia was "a state within Spain's federal republic" - though he quickly surrendered after military forces attacked the Catalan government headquarters in Barcelona.
For this, he was sentenced to 30 years behind bars but then pardoned in 1936 once the left regained power in Spain, reclaiming his post as president of Catalonia again shortly thereafter.
On July 17, 1937, however, military officers headed by Francisco Franco staged a coup against the Second Republic, marking the beginning of the Spanish Civil War. Companys remained loyal to the republic and helped coordinate resistance against the insurgents with the creation of the Central Committee of Antifascist Militias of Catalonia.
But by 1939 it became clear that Franco would win the war. The Catalan president ended up fleeing to France, as did hundreds of thousands of other republicans in what is known as 'La retirada'. His exile was shortlived, however: in 1940, Companys was arrested by German secret police in Brittany, who handed him back to Spain's Francoist authorities.
Companys' remains lie at Fossar de la Pedrera, a memorial space inside the Montjuïc cemetery dedicated to victims of fascist repression and Civil War-era bombings.