Podemos party leader visits jailed Catalan pro-independence head
Pablo Iglesias meets with Òmnium's Jordi Cuixart in prison and says "democrats have to defend freedom of prisoners"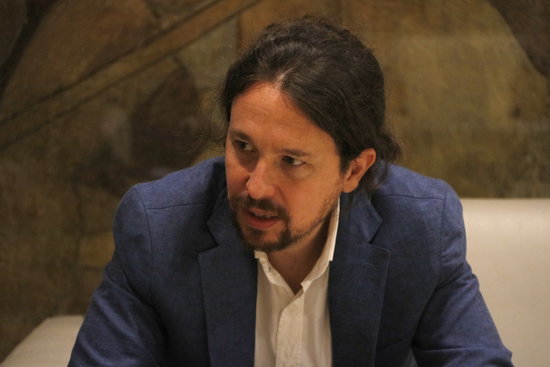 The leader of Spain's Podemos party visited a jailed Catalan pro-independence leader on Tuesday morning. Pablo Iglesias, the head of the left-wing Spanish party, met with Jordi Cuixart, the leader of the Òmnium Cultural civic organization, and Iglesias was also able to greet jailed Catalan MP, Jordi Sànchez. Both men are being held in Madrid's Soto del Real prison since last October while awaiting trial for their part in last year's bid for independence. On March 23, the Spanish Supreme Court indicted them for rebellion, a crime which might carry up to 30 years in jail.
Talking with Catalan public television later, Iglesias said it was the obligation of democrats to defend the freedom of the prisoners, and he added that "it's not sensible" for Spain to have "political prisoners." Iglesias is the first head of a Spanish political party to visit one of the nine Catalan pro-independence leaders being held in custody. The Podemos leader went on to offer himself as a mediator between the Spanish and Catalan governments.
Yesterday, Iglesias met with Catalonia's president, Quim Torra, in the government headquarters in Barcelona. Following that meeting, Iglesias expressed his wish to visit the jailed pro-independence leaders, although he gave no indication when he would do so. The Podemos leader also stressed that the disagreement between the Catalan and Spanish governments over self-determination should "in no way prevent dialogue and exploring democratic means to manage the conflict in Catalonia."