Pablo Iglesias resigns as Spain's vice president to run in Madrid's regional election
Leader of anti-austerity Podemos quits Pedro Sánchez's coalition government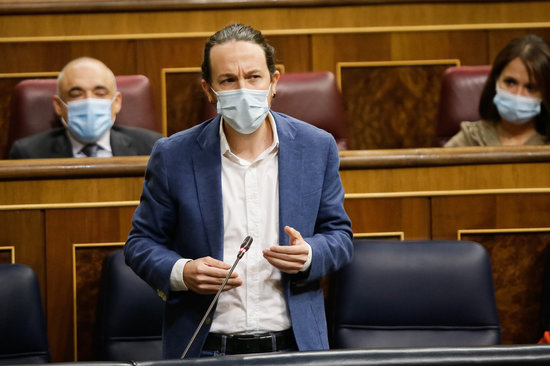 Pablo Iglesias has resigned as Spain's vice president, quitting the government led by Pedro Sánchez to run in the upcoming Madrid regional election as the leading candidate for the anti-austerity Podemos party.
Madrid is heading to the polls on May 4 following a week of political tension among right-wing parties. The stakes are high: left-wing forces will attempt to regain control of Spain's richest region for the first time since 1995 or once again lose to conservative parties, this time with an emboldened far right.
"I'll put all my energy into building a strong and broad left-wing candidacy to prevent the far-right from taking control of our institutions," Iglesias said in a video statement released on Monday morning, proclaiming that "a militant must be wherever he's most useful."
Iglesias has been a ubiquitous figure in Spain ever since bursting onto the political scene in a 2014 European election as Podemos' candidate. They presented themselves as the political heirs of the anti-austerity protests that swept Spain in the wake of the financial crisis.
In 2019, he became Spain's vice president after reaching a coalition government agreement led by the Socialist presidential candidate Pedro Sánchez.
Iglesias' approach to Catalonia
As the leader of Podemos, Iglesias has been the only leader of a Spain-wide party calling for a self-determination referendum for Catalonia and openly denouncing the prosecution of the pro-independence leaders, often coming under fire from conservatives and left-wing allies alike.
With Spain's left-wing coalition government relying on the votes of pro-independence parties like Esquerra and Junts per Catalunya in Congress, it is unclear what effect Iglesias' departure will have on the troubled relationship between Catalan and Spanish executives.
The news prompted Elsa Artadi of pro-independence Junts per Catalunya to say that she hopes Iglesias' move does not allow Spanish president Pedro Sánchez an excuse to abandon looking for a "democratic solution" to the conflict surrounding the future of Catalonia.