Podemos: 'Catalonia deserves Spanish government that listens, not a wall'
Anti-austerity party, in coalition talks with Sánchez, calls for having relevant role in potential joint cabinet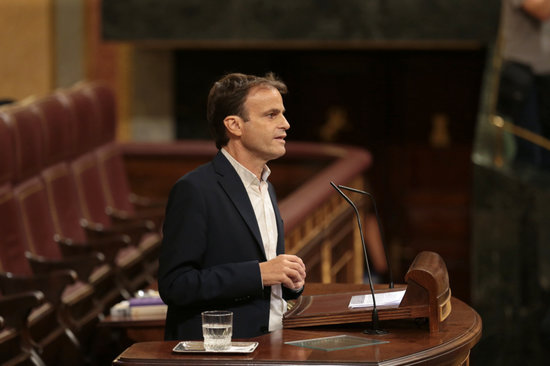 Left-wing En Comú Podem, the Catalan ally of Podemos, has called on the candidate for Spanish president Pedro Sánchez to listen to Catalonia.
"In dialogue, it's very important to ask questions and then listen. Catalonia deserves a Spanish government that will ask it questions and listen, it does not deserve a wall," Jaume Asens said, an MP who usually sides with the independence movement.
His group and his Spanish-wide ally are in eleventh-hour coalition talks with the Socialists and, if the negotiations are successful, they will form the first joint government in Spanish history since 1936.
Yet in his statement during the congress debate to name a Spanish president, Podemos' head, Pablo Iglesias, made clear they want to play a relevant role in the potential cabinet.
"Respect our 3.7 million voters, because we won't accept being a mere backdrop," he said.
In his response, Sánchez denied an intention to minimize Podemos' impact in the executive, but also asked for their support even if in the end there is no coalition government deal.
The Socialist candidate also emphasized the "differences" between his group and Podemos in the independence issue. Sánchez has rejected the Catalan jailed leaders being called 'political prisoners,' as Podemos refers to them.