Pere Aragonès will make a bid for the presidency in Parliament again on Thursday
Esquerra's frontrunner likely to succeed in light of pro-independence coalition deal with Junts per Catalunya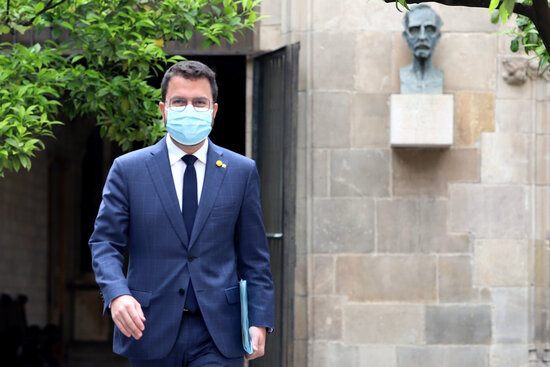 Pere Aragonès will for president in Parliament for a second time from this Thursday.
After completing a round of talks with all the parliamentary groups, the chamber speaker, Laura Borràs, confirmed on Wednesday that Esquerra's frontrunner is likely to succeed before lawmakers.
After a debate in which Aragonès will present his plans for this term on Thursday at 4 pm, all groups will take the floor on Friday from 9 am and a final vote is expected for Friday afternoon.
Unlike the failed vote in the debate on Aragonès' bid from March 26 to March 30, this time the current interim president is very likely to succeed, since his party sealed a coalition deal with the other main pro-independence force, Junts, earlier this week. Esquerra also has a deal with the anticapitalist CUP party, which will also contribute to see him become the 132nd Catalan president in the first round of vote on Friday evening.
A swearing-in ceremony is expected in the coming days, before the new ministers are appointed and the new executive is finally up and running after over 230 days of an interim cabinet.
JxCat had guaranteed their Yes vote in parliament, but their membership had to greenlight sharing a government with Esquerra – but now, unlike the past term, as the junior partner.
On Wednesday, the party made public that 83% of the members ratified the coalition deal, meaning that both parties will share the cabinet with seven ministers for each, as agreed.
Both mainstream pro-independence groups also committed to launch talks with Spain for an agreed self-determination referendum – in their 46-page deal an unauthorized vote like that of 2017 is nowhere to be found.