Pere Aragonès becomes 132nd Catalan president
Pro-independence majority in parliament appoints the first head of government of the ERC party since the return to democracy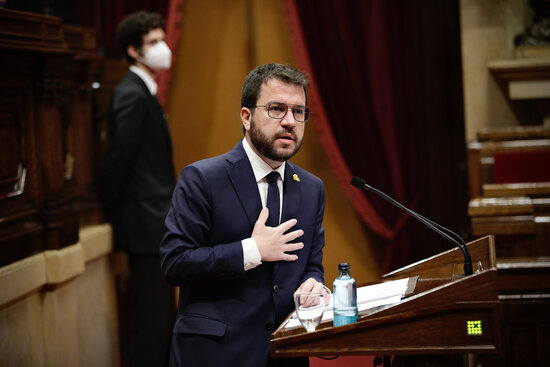 Pere Aragonès was voted as the 132nd president of Catalonia by the pro-independence majority in parliament on Friday, ending a 3-month political deadlock and allowing him to lead a renewed coalition government.
Aragonès received the parliamentary support of 74 MPs, with 61 negative votes.
He garnered the support of his own party, left-wing Esquerra Republicana (ERC), as well as far-left CUP and Junts per Catalunya (JxCat), with the latter expected to enter the cabinet following a last-minute deal to avoid a snap election.
At 38, Aragonès is the youngest Catalan president in modern times and the first Esquerra Republicana member to hold the post with full executive powers since the 1930s, when a military coup overthrew the democratic regime to impose the Franco dictatorship. Before the transition to democracy in the 1970s, the title of Catalan president was passed down among exiled politicians.
In his inaugural address, Aragonès expressed his gratitude to Oriol Junqueras, the leader of ERC and former Catalan vice president serving a 13-year prison sentence for his role in the 2017 independence push.
"I thank you for believing in me, for your support, commitment, and teachings," said Aragonès, with Junqueras being able to attend the ceremony in person while on a prison permit.
"I commit myself to carry out my duties with personal humility, collective ambition, and at the service of Catalan citizens," Aragonès said in his inaugural address.
Pro-independence election victory
The Aragonès administration will be supported by a pro-independence bloc that increased their parliamentary majority in the February 14 election, with ERC overtaking their ruling partners JxCat and tying at 33 seats with the unionist Socialist party, which won more votes.
Having surpassed 50% of the popular vote for the first time, pro-independence parties face the challenge of continuing to pursue their political goal while still suffering the consequences of the failed bid to hold a referendum and separate from Spain four years ago, with several politicians and activists either in prison or exiled.
Aragonès has defended the need to overcome political discrepancies and continue pursuing dialogue with the Spanish government as a means to achieving an amnesty and being able to exercise the right to self-determination—a strategy that other pro-independence parties believe will bear no fruits.
What comes next?
After the election of Aragonès in parliament, the chamber's speaker Laura Borràs is expected to officially notify the appointment to Spain's king, Felipe VI.
Over the next five days, Aragonès will be officially inaugurated in a swearing-in ceremony at the Palau de la Generalitat, the Catalan government headquarters in Barcelona.
He will then proceed with the appointment of his ministers, with the government deal reached between ERC and JxCat envisioning 14 different ministries split evenly, including a vice presidency for the latter.