People's Party: in need of resurrection after April disaster
Polls are looking more positive for leader Pablo Casado despite legacy of corruption scandal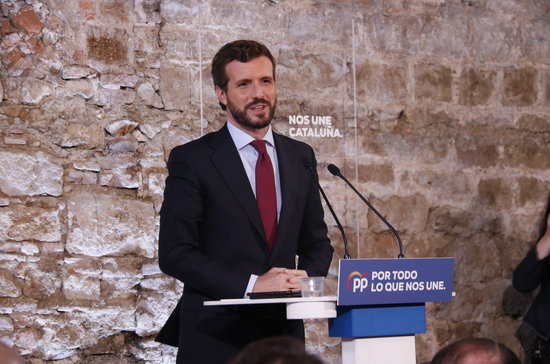 Spain's right-wing People's Party is hoping to take its first steps forward in Sunday's snap general election after obtaining its worst results last April.
Pablo Casado was elected party leader in July 2018, shortly after his predecessor and Spain's former president Mariano Rajoy was removed from power in a no-confidence motion by the Socialist Pedro Sánchez last year following a corruption scandal.
Casado is hoping to see progress in the upcoming election after a disappointing showing in the last vote in which the party's number of seats in Congress more than halved from 137 to 66.
A party that stems from right-wing post-Francoist origins through the Popular Alliance formed in 1976, there is now uncertainty over who carries the proverbial right-wing flag in Spanish parliament. Ciudadanos was hot on the heels of the People's Party in April, rising to 57 seats, while far-right party Vox is rapidly growing, winning 24 seats in April's election.
Despite the quick turnaround between elections, a CIS poll suggests that Casado's party will now win between 74-81 seats in Congress, regaining some of the seats that Ciudadanos had won in the April 28 election.
The party is once again not expected to have much success in Catalonia however. Having fallen from five seats to just one in 2018, its fortunes are expected to be similar.
The result? A party that was at the top of Spanish politics for much of the 21st century lost over half of its seats in Congress, winning the lowest number of seats since the party was created by some margin.
Dissolving self-rule in Catalonia
Casado has criticized acting president Pedro Sánchez for not taking enough of a hardline stance over the current situation in Catalonia after the verdict to the Catalan Trial was released in which nine independence leaders were given lengthy jail sentences of between 9 and 13 years for their role in organizing an independence referendum deemed illegal by Spain.
In April, he urged for the prohibition of presidential pardons, referring to the possibility of release of the independence leaders, and making unauthorized referendums a criminal offense.
Casado affirms that if he were to win the November 10 election, he would send Catalan president Quim Torra a warning, which would lead to the application of Article 155 and imposition of direct rule over Catalonia from Madrid if not followed.
Hardline stance increases as election nears
Far-right Vox is currently on the rise in polls, expected to win even more seats than it did in the April elections, and Casado intends to avoid losing any more votes in their direction.
He has urged Sánchez to ''restore order in Catalonia'' or ''we will do it ourselves on November 11.'' This comes after weeks of civil unrest in Catalonia after the release of the guilty verdict, which led to altercations and over 600 injuries.
No alliance with Sánchez
Polls predict that Sánchez's Socialists will once again win the most seats in Congress but without gaining a majority, he is going to have to look to his left and his right in search of an alliance.
But, while a People's Party alliance is a potential option, it still remains a very distant possibility. Casado himself has said that he would not ''facilitate'' a Socialist government by abstaining when it came to a parliamentary vote on the matter.
''We are Sánchez's opposite. We cannot back him.''
He also accused Sánchez of strategically calling for a snap election knowing that it would be in the wake of the announcement of the verdict of the Catalan independence leaders. ''He thought it would be in his interest for there to be violence and for him to show up.''