People's Party elects Alberto Núñez Feijóo as leader
New president of Spain's conservative party sets goal of regaining absolute majorities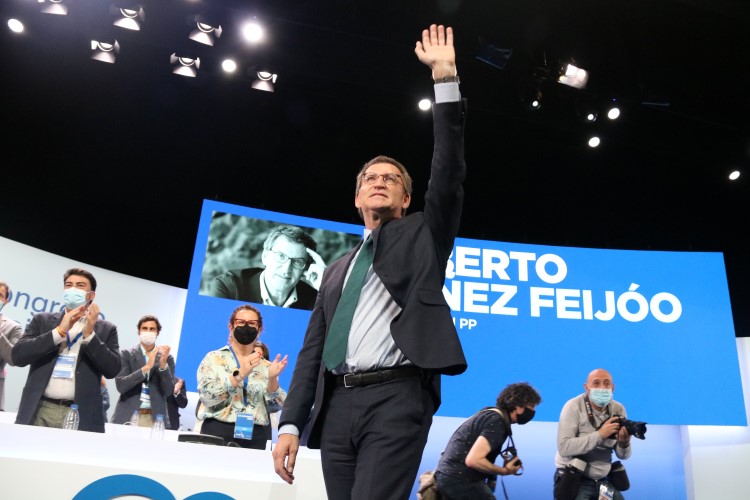 Alberto Núñez Feijóo has been formally appointed the new president of Spain's People's Party (PP), winning 98.35% of the votes unopposed at the party's conference in Seville on Saturday.
The new leader has promised constructive opposition and set himself and the party the goal of winning "absolute majorities".
"I'm not coming to insult the president of the government [Spain's prime minister, Pedro Sánchez], I'm coming to beat him," Feijóo said in his first speech as party leader.
The four-time president of Galicia also distanced himself from the far right, saying it was time for "adult" politics, "center-right" policies and "moderation".
Feijóo thanked his predecessor, Pablo Casado, but cited former party leaders and prime ministers José María Aznar and Mariano Rajoy as his "reference points."
Casado stepped down as head of the People's Party and announced his decision to quit politics on Friday evening. He had lost support in the party over an investigation into alleged corruption of the president of the Madrid region, Isabel Díaz Ayuso.
Catalan PP welcomes appointment
Feijóo's appointment was welcomed by the leader of the People's Party in Catalonia (PPC). Alejandro Fernández said Feijóo was "making an important commitment to the PPC" with the incorporation of two members of the Catalan PP in the new party executive.
"We have an extraordinary presence insofar as we have the same as any other autonomous community, bearing in mind that Catalonia is not where the PP has the greatest electoral support," Fernández told media ahead of Feijóo election.
The party will now prepare for the new leader's first big test, the 2022 Andalusian elections.