PDeCAT: heirs of old hegemonic party struggling to survive
Led by former minister Àngels Chacon, they could either not make it into Parliament or obtain just enough seats to be key to governing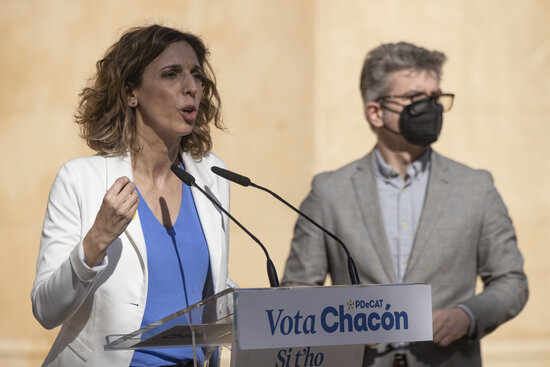 The days of the center-right Catalan nationalist CiU bloc's two-decade hegemonic rule are long gone, although they once governed for 23 years straight, from 1980 to 2003, and used to win absolute majorities of up to 72 out of 135 seats.
Yet, the independence surge in the early 2010s and their alleged involvement in a corruption scandal meant that CiU—made up of CDC and UDC and undecided on the issue of independence—broke down into a myriad of pieces, the main one of these being moderate, center-right and pro-independence PDeCAT.
Yet, a few months ago, Carles Puigdemont, who was a member of PDeCAT when he became Catalan president, founded a new party, Junts per Catalunya, splitting with PDeCAT to seek a more confrontational approach with Spain on independence.
Most voters are expected vote for Puigdemont's JxCat over PDeCAT and most polls do not project the small party to win any seats. Yet, CDC's heirs have not given up, and their campaign emphasizes their center-right position on the political spectrum and their unwillingness to reach deals with far-left pro-independence CUP, unlike JxCat.
"The main problem [between PDeCAT and JxCat] is their vision for the country, the political ideology: what we stand for and what they don't. Actually, we don't know exactly what kind of party they are," PDeCAT's frontrunner Àngels Chacón told Catalan News during the campaign.
Chacón was Catalonia's business minister from 2018 until 2020, when JxCat parted ways with her party and she was ousted from government by then-president Quim Torra, who supports Puigdemont's force.
Her main arguments for the party concern their experience in government as well as their defense of semi-private schools, fewer taxes, and increasing public debt to support businesses affected by Covid-19.
PDeCAT, which is also former president Artur Mas' party, has faced criticism for their soft approach to the independence debate, to which they respond by emphasizing that they have supported the creation of a Catalan state since the early 2010s.
They stand for an independence referendum that is accepted by Spain, the release of the jailed 2017 referendum organizers and the return of the exiles, including Puigdemont, while still governing within the current legal framework.
"We want to become an independent country but at the same time we have to manage the day-to-day issues, what affects people on a daily basis," said Chacón.
They could very well not end up in Parliament, as most polls predict, but could also obtain a handful of seats and be crucial to forging a pro-independence majority. JxCat could also lose out due to voters casting their ballots for PDeCAT in the very tight February 14 race with fellow pro-independence Esquerra Republicana and the Socialists.