Parliament speaker demands proposal from Spain to resolve Catalan crisis
Roger Torrent: "Spanish government is caught by the fear of the right and far right response"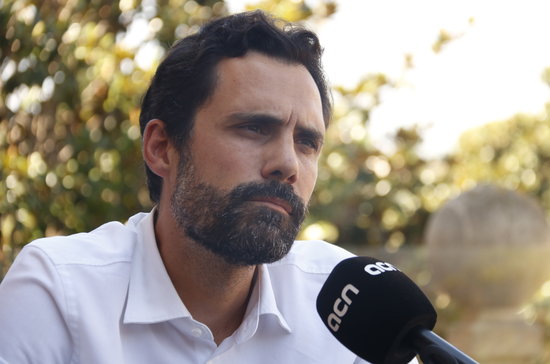 The Catalan parliament speaker, Roger Torrent, has demanded that the Spanish government make a move to find a way out of the Catalan crisis in the near future.
The second-highest authority in Catalonia has asked Spain's leader Pedro Sánchez to make a concrete proposal to resolve the Catalan independence crisis in the next meeting between Barcelona and Madrid to tackle the issue.
In an interview with the Catalan News Agency (ACN), Torrent said that Sánchez " is caught by the fear of the right and far right response" to potentially allowing Catalonia to vote on its independence.
Sánchez and the Catalan leader, Quim Torra, launched talks to find a way out of the conflict in February, with the two executives holding a meeting in late February.
The outcome was the commitment to hold one session per month, but a few weeks later, the Covid-19 outbreak interrupted any plans of further meetings.
While Torrent's ERC party is keen for such dialogue to continue, their senior coalition partners in the Catalan cabinet, Junts per Catalunya (JxCat), would only accept a new meeting if it is explicitly to talk about "how" the right of self-determination will be exercised.
Meanwhile, Sánchez's government says it is "ready" to sit at a negotiation table, but before that, ERC and JxCat "have to be in agreement."
So far no date for a second meeting has been set.
For Torrent, the negotiations are now "stuck" due to Sánchez's "lack of courage" to state his formula – self-determination and amnesty for the jailed and exiled leaders who organized the 2017 referendum is both ERC's and JxCat's proposal.
The chamber head also accused the Spanish executive of helping the former king Juan Carlos "flee" to the United Arab Emirates while entangled in corruption allegations.
For this reason, according to Torrent, the current cabinet in Madrid, the first left-wing coalition executive in modern history, is in fact "conservative and right wing."
The parliament speaker also called on Pedro Sánchez to choose between ERC and unionist Ciudadanos as partners ahead of the 2021 Spanish budget – the pro-independence party helped the Socialists remain in power earlier this year, but they have been distancing ever since, while Ciudadanos supported the last extensions to Spain's state of alarm.