Outrage in pro-independence camp over court's denial of Junqueras' immunity
Leading figures call decision an "error" and "shameful", while many foreign MEPs also condemn Supreme Court ruling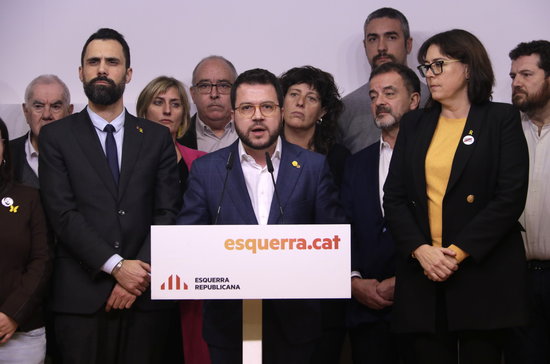 Leading figures in Catalonia's pro-independence camp reacted with outrage to the decision of Spain's Supreme Court to deny jailed ERC party leader Oriol Junqueras permission to attend the European Parliament on Monday and take up his seat as an MEP.
Catalan president Quim Torra was among the first to react, calling for the "immediate release" of Junqueras, adding that the previous decision by the European Court of Justice was clear: "Junqueras is an MEP and on Monday should be in the European Parliament."
Torra's predecessor now in exile, Carles Puigdemont, also expressed his condemnation of the Supreme Court's decision, calling it a "very serious error," and also insisting that Junqueras is an MEP and "will end up acting as such."
Along with Junqueras, Puigdemont also won a seat in the European Parliament in May's election, but as he remains free in Belgium, where he is facing extradition, he will be able to attend the chamber's plenary session on Monday.
Party colleagues rally to support Junqueras
Meanwhile, Junqueras' party colleague and vice president, Pere Aragonès, called the court's decision "shameful" and a "scandal," claiming that Spain's judiciary "once again has infringed the rights of Junqueras and thousands of citizens who voted for him."
As for the Catalan parliament speaker, Roger Torrent, who also belongs to Junqueras' party, he said that "by contradicting the European Court of Justice, the Supreme Court has chosen the most restrictive path and continues to violate MEP Junqueras' rights."
ERC aims to "overturn injustice"
Junqueras' ERC party issued a statement on social media accusing the Spanish judiciary of "again disobeying international rulings" and "impeding citizens from being represented," ending with a defiant vow to "overturn the injustice."
In fact, ERC said it will appeal the decision and take legal action against the Supreme Court ruling denying Junqueras' immunity as an MEP, and it called on the European Parliament to "protect" Junqueras and to verify his credentials.
In the evening, ERC's MEP Diana Riba sent a letter to all of her colleagues in the chamber on the issue.
"It is extremely serious that the Spanish judiciary is interfering in the composition of this Chamber without requesting the European Parliament to waive MEP Junqueras' immunity, which is the only one entitled to annul this prerogative," she said.
"The European Parliament now faces a choice between complying with the ECJ ruling and the democratic principles enshrined in EU law or allowing for the arbitrariness and disobedience of the Spanish Supreme Court to prevail, which would set a dangerous precedent."
Riba also called on the chamber to "take note" of the election of Junqueras as MEP in next plenary session, beginning on Monday.
European Parliament members react
The Supreme Court's decision also drew plenty of criticism from foreign figures in the European Parliament, such Social Democrat MEP and former Slovenian parliament speaker, Milan Brglez, who said the ruling made it an "issue of the EP vs the Spanish judiciary."
José Bové, MEP and a historic figure of the French green left, said he was "shocked" by the Supreme Court's decision and called it "a serious attack on democracy," while Catalan Greens' MEP, Ernest Urtasun, described it as a "serious mistake."
For Czech MEP, Kateřina Konečná, she said that she was "glad Spain has a new left government," and suggested that it is time to free Junqueras "not only because of the European law, but mainly because it's the right thing to do."