Supreme Court rejects jailed MEP-elect Junqueras' immunity and freedom despite EU ruling
Spain's top judges rule against politician's hopes to attend upcoming EU parliament plenary session after chamber confirmed him as MEP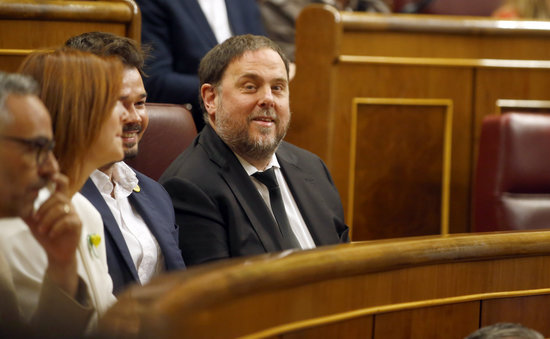 Spain's Supreme Court denied on Friday that jailed pro-independence leader Oriol Junqueras has parliamentary immunity and rejected freeing him, despite last month's European Court of Justice ruling in his favor.
Junqueras's immunity was confirmed by the Luxembourg-based judges on December 19 as an MEP-elect, something that had been denied by Spanish authorities after the May 26, 2019 European election.
The imprisoned politician was elected MEP when his trial was still underway and he was in provisional detention. The EU court ruling stated that he should have been freed then since he had not been sentenced, but did not explicitly rule on his current post-verdict status.
No immunity, no freedom
Although the Supreme Court conceded that Junqueras should have been released after the European election, the judges argued that the question of his immunity is no longer applicable as he has already been convicted and disqualified from public office.
They, therefore, stated that they do not intend to launch the official procedure to ask the EU parliament for permission to try him because his conviction already is final and as such reject his defense team's petition to nullify his sedition sentence.
Pro-independence Esquerra Republicana party has already announced that it will appeal and take legal action against the ruling and has asked the European Parliament to "protect him" as well as to verify his credentials.
The chamber confirmed Junqueras as an MEP this Monday following the EU court's ruling and his profile already features on their website.
The pro-independence politician was hoping to be freed to be able to attend the upcoming EU Parliament plenary session, beginning on Monday.
Supreme Court rejects suspending electoral board veto on Junqueras as MEP
This came minutes after another ruling related to the case by the same court was announced rejecting to suspend the electoral board's decision to veto jailed leader Oriol Junqueras as an MEP, as requested by the politician's defense team.
The electoral authority is in charge of officially confirming who obtains seats after an election, while the Supreme Court is Spain's top judicial institution.
One of the arguments the Supreme Court judges used to justify their decision was that the sentencing handed down to him for his role in the 2017 independence bid was final and includes a 13-year prison term and disqualification from public office.