New Catalan parliament opening session underway: live updates
Laura Borràs set to become new chamber speaker as far-left pro-independence CUP will be part of bureau for first time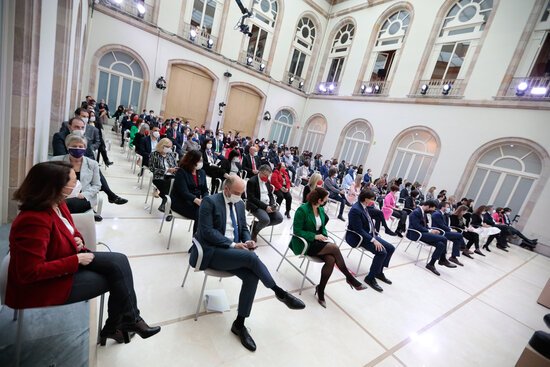 The Catalan parliament is holding its opening session on Friday morning after the February 14 election.
After an agreement between the two mainstream pro-independence parties, Junts per Catalunya's election frontrunner, Laura Borràs, has become the leader of the parliament.
Anna Caula was selected parliament's bureau first secretary, while Eva Granados was chosen as second vice president.
The session will also include the oath of all 135 new MPs.
Interim bureau
An Interim bureau led by eldest MP, Ernest Maragall, set up to launch the session.
He gave a warm welcome to new MP Serret, who returned to Catalonia yesterday after three years, mentioned the jailed leaders and rejects far left – unionist Ciudadanos' Carrizosa complained about his speech.
The session is exceptionally taking place in the chamber's auditorium, larger than the plenary sessions room, due to Covid-19 restrictions.
Follow our live updates here: