MP Bernat Solé appointed new foreign minister
Predecessor Bosch stepped down over handling of sexual misconduct allegations against chief of staff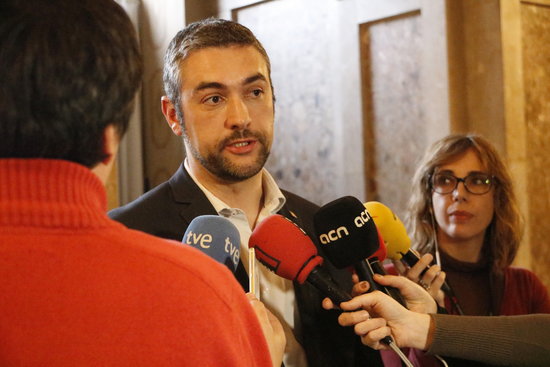 Pro-independence Esquerra MP Bernat Solé has been appointed the new foreign minister. President Quim Torra announced it on Twitter on Friday afternoon, twelve days after his predecessor, Alfred Bosch, stepped down after facing criticism for the way he handled sexual misconduct allegations against his former chief of staff, Carles Garcias.
Solé has been an MP in the Catalan parliament since 2015, a period that includes the 2017 independence push.
He has also been the mayor of Agramunt, a town in western Catalonia, since 2011.
Solé, 44, studied industrial engineering, and has worked as a technology teacher and as an industrial engineer.
Judicial case open over referendum
The Esquerra party politician will take office remotely on Saturday, in the midst of the coronavirus crisis, despite having a judicial case open against him for allowing the 2017 independence referendum to take place in Agramunt.
Indeed, on November 12, 2019, Spain's prosecutor asked the Catalan high court (TSJC) that Solé be tried on disobedience charges, and requested a disqualification of one and a half years and a €24,000 fine.
Dealing with alleged sexual scandal
Daily 'Ara' published an article on March 9 saying that several female employees in the foreign department had made formal complaints, alleging constant verbal harassment by Garcias that helped create a climate of "terror" in the department, although none of the alleged incidents was reported to the police and there is no suggestion of any physical aggression.
Garcias was fired on January 24, but the same media report said that came only after the leadership of the pro-independence Esquerra party obliged their fellow member, Bosch, to sack Garcias against his will.
The Esquerra party gave a statement on Friday, saying they have picked a person "external" from the foreign office for the post, in order so that he can do a "neutral approximation" on the matter.
According to the party, his profile is "more political than technical."