Foreign minister steps down over handling of sexual misconduct allegations against fired chief
Alfred Bosch decides to resign in face of growing pressure despite ERC party defending "forceful" reaction to "extremely serious situation"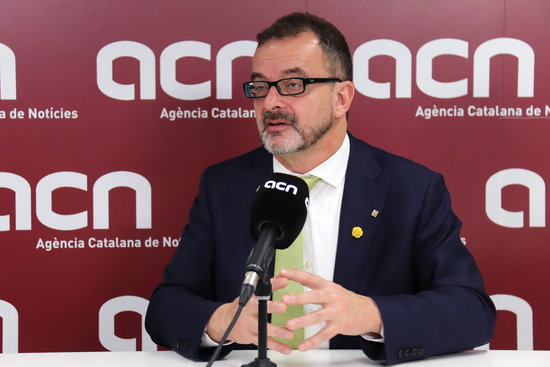 The Catalan government's foreign affairs ministry said on Monday that it has begun investigating allegations of sexual misconduct by a chief of staff who was fired in January after complaints from a number of its female employees.
Yet, it was not enough to save the job of foreign minister Alfred Bosch, who stepped down from his post after criticism grew during the day of his handling of the case and allegations that he had resisted firing his former chief of staff, Carles Garcias.
Earlier, Bosch had apologized on his own behalf and that of the department for "any pain that may have been caused" by the alleged behavior of his former assistant, but as the pressure grew, he eventually decided to leave the post he took up in November 2018.
At a press conference on Monday evening, Bosch explained his reasons for stepping down: "I tried to handle a case of alleged sexual misconduct the way I thought was best. I probably didn't do it properly or quickly enough, and I am sorry."
Top ERC official defends Bosch and party
With the spotlight on ERC's handling of the situation, deputy secretary general Marta Vilalta defended Bosch and her party on Monday before he announced that he would be resigning, saying that they had acted in a "forceful" manner when faced with the "seriousness" of the allegations.
"In light of this extremely serious situation, the [then-current foreign] minister decided to fire this person and he did so in agreement with Esquerra Republicana," she said, but she did not answer questions about the allegation that Bosch had tried to move Garcias to another post.
Complaints from female staff began in September
The ministry announced the investigation after the Ara newspaper on Monday revealed that Garcias was fired on January 24 after a series of complaints about his attitude and conduct towards some female employees that began the previous September.
The complaints allege constant verbal harassment by Garcias that helped create a climate of "terror" in the department, although none of the alleged incidents was reported to the police and there is no suggestion of any physical aggression.
Ara also said that ERC party head, jailed independence leader Oriol Junqueras, learned of the allegations in November and demanded Garcias be removed in December, but that Bosch initially resisted firing his assistant and tried to move him to another post.
Mounting pressure from other parties
Bosch's resignation as Catalonia's foreign minister comes following mounting pressure directed his way from members of other political groups.
Eva Granados, of the Catalan branch of the Socialist party, criticized his handling of the matter, calling it "unacceptable" and suggested that he had tried to keep the case in question quiet.
Other politicians also found fault with Bosch, including MP Elsa Artadi of Junts per Catalunya, who denounced the "opacity" with which he dealt with the case.