Minister seeks greater 'administrative coordination' to tackle Goiat bear issue
Pyrenean predator responsible for multiple attacks on livestock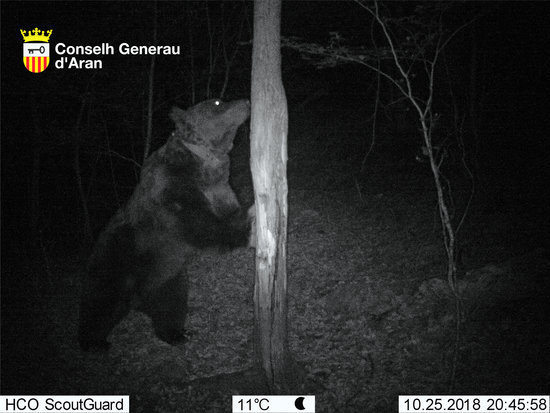 The Catalan minister for sustainability and territory, Damià Calvet, believes that greater "administrative coordination" is required between Catalonia, Aragon and Spain to tackle the problem of Goiat the brown bear in the Pyrenees.
Goiat was brought to the area from Slovenia in 2016 as part of the PirosLife European project to repopulate the mountains with brown bears since the local ones had been wiped out by hunters in the 1980s.
Although the project began in the 1990s, male bear Goiat was introduced to the region more recently in an attempts to promote greater genetic variety among the reintroduced bear population.
He is, however, notably more predatory than the other bears in the region and is behind a considerable number of attacks on livestock in the Catalan and Aragonese Pyrenees, leading many angry farmers to demand that he be removed from the region.
In response to his attacks, the Catalan government has elaborated a reeducation protocol to alter Goiat's behavior with aversive conditioning, that is to say, by having him associate his predatory behavior to things that scare him, such as the sound of firing blanks or rubber bullets.
Calvet has also proposed a meeting with his Aragonese homologue to assess the protocol's effectiveness and to consider whether Goiat should be removed from the Pyrenees or not.
This comes weeks after Calvet received a letter from the Aragonese minister for rural development and sustainability, Joaquín Olona, in which he demanded that Catalonia deal with Goiat since the Catalan government has been managing the bear reintroduction program in the region.
Calvet responded by telling Olona that the reintroduction program began in 1996 and was headed by France with the support of the European Commission and the Spanish government, for which he claims Catalan involvement in the project is no different to that of the other administrations.