Leaders celebrate independence mandate of 2017 referendum at commemorative act
Political officials and other prominent figures also condemned police violence seen on the fourth anniversary of the vote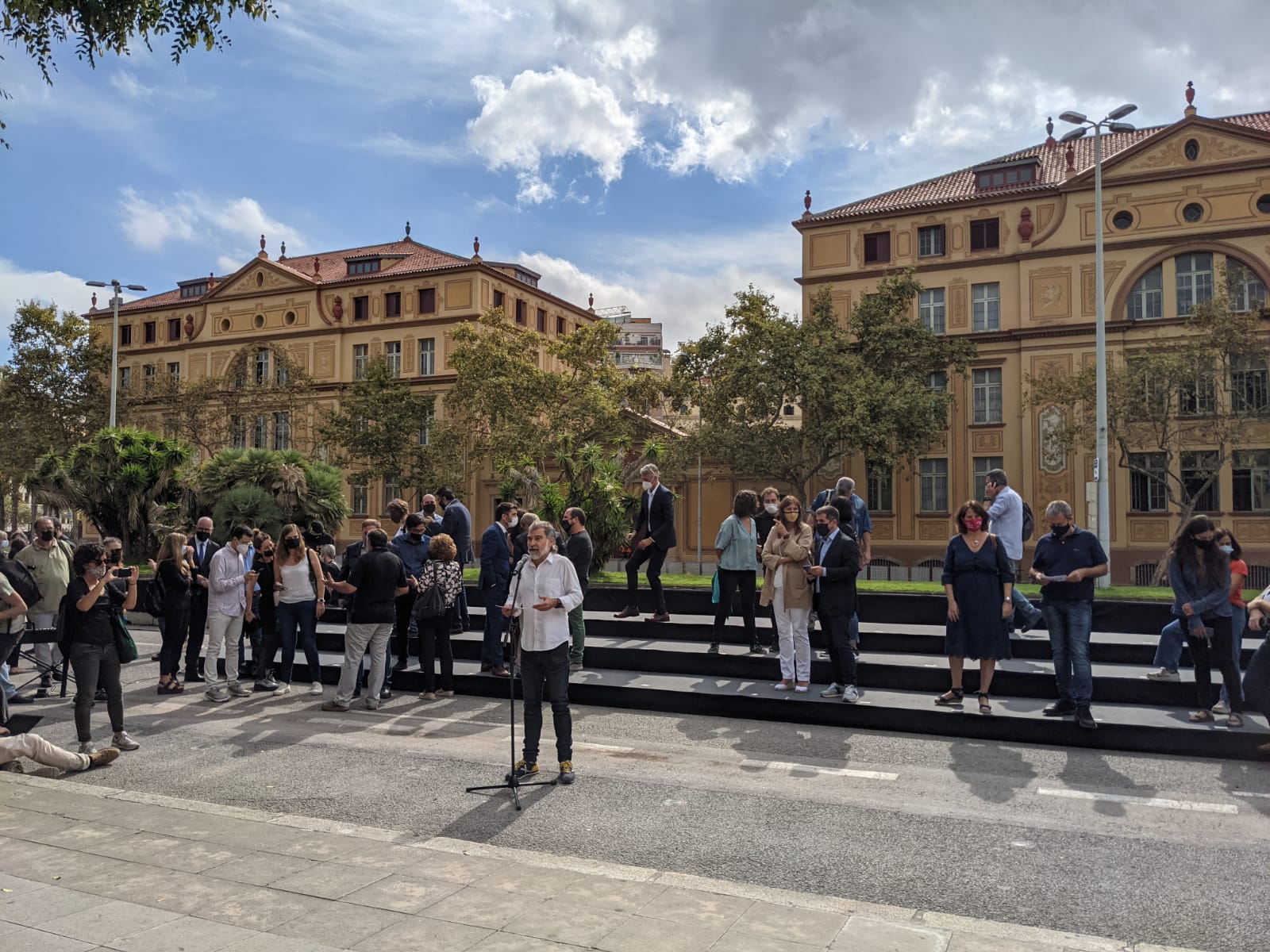 Some of the most prominent figures of the Catalan independence movement gathered for a commemorative act at Plaça Pablo Neruda in Barcelona on the fourth anniversary of the October 1, 2017 independence referendum on Friday.
Organized by pro-independence civic group Òmnium Cultural, dozens of leaders from pro-independence parties Esquerra Republicana, Junts per Catalunya, and CUP, as well as other entities such as Catalan National Assembly and the Platform October 3, celebrated the results of the "democratic party" held four years ago, as it was described by some of the speakers.
Some of those present included Catalan president Pere Aragonès, former president Artur Mas, parliament speaker Laura Borràs, vice president Jordi Puignerò, as well as various independence leaders who spent years in prison for their roles in organizing the plebiscite of 2017, such as Oriol Junqueras, Jordi Sànchez, and Jordi Cuixart.
"Voting only harms those who fear democracy," said JxCat's Borràs. "Voting never divides us. A referendum strengthens us democratically."
Those present also asserted their strength and desire to "persist" on the pathway towards independence.
With the Ramon Llull school as a backdrop to the commemoration, a polling booth four years ago that witnessed violent police chargers against voters as Spain's Guardia Civil tried to put a stop to the referendum, the "repression" and "state and judicial violence" from Spain was also condemned at the act.
Those who spoke also reiterated their determination to pass an amnesty and win self-determination for Catalonia and to avoid "stabilizing" itself within Spain.
Jordi Cuixart: 'Spanish government has to change 180 degrees'
Speaking with Catalan News, Jordi Cuixart celebrated that this was his first referendum anniversary after being released from prison in June.
He acknowledged it was an "important day" for Catalan society: "Remember that four years ago the Spanish police injured more than 1,000 people, people who the only crime they committed was to put a piece of paper inside a plastic box."
The Òmnium president said the independence movement is "always open to dialogue and negotiations" but criticized that the Spanish government were not engaging in talks in a meaningful way.
"The main problem today is we see the Spanish government and the rest of the powers of the state are not open to negotiating honestly, so it means they say 'yes let's negotiate but we cannot talk about self-determination, we cannot talk about amnesty," Cuixart said.
"The attitude of the Spanish government has to change 180 degrees if they honestly want to negotiate like in other conflicts all over the world," the formerly jailed independence leader concluded.
Parties in favor of remaining within Spain, however, have been reluctant to acknowledge these demands. Raúl Moreno, a Socialist party MP in the Catalan parliament, insisted on Friday that "Catalonia wants to turn the page" four years after the independence vote. "October 1, with all due respect to those who thought independence was possible, has proven not to be the way forward," he said.
Catalan president urges recovering the 'spirit' of 2017
As part of an institutional statement earlier in the morning, Catalan president Pere Aragonès urged the independence movement to "recover the spirit of October 1, 2017."
Aragonès wants to see pro-independence supporters "work together" to become "unstoppable" in leading Catalonia to become an independent republic.
He declared his executive an "heir" of the 2017 referendum and vowed to not give up anything in negotiations with Spain, which he described as "the only viable way to find a solution."
The ERC head added that his government is "proud" of the 2017 referendum, and pledged that the country "will vote again," and that both Catalans and Spain know this.