JxCat candidate cools on continuing pro-independence coalition with ERC after election
Two government parties clash again, accusing each other of a potential deal with Socialists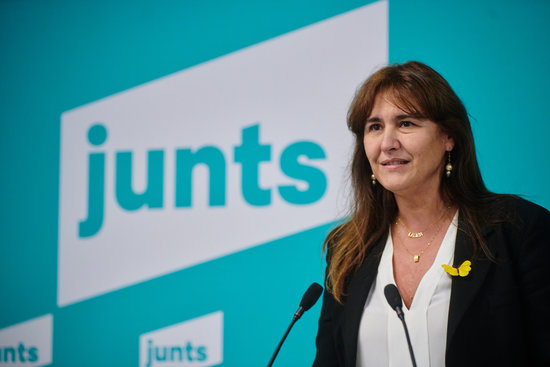 Laura Borràs, Junts per Catalunya's (JxCat) presidential candidate for the February 14 election, has raised doubts over whether her party will support entering another coalition with Esquerra (ERC) after the vote.
A fully pro-independence government has been in place in Catalonia since January 2016 – and in the 2012-2015 term, parties in favor of a referendum were ruling the country.
Despite members of both JxCat and ERC having spent years in the same jail for their joint effort to hold the 2017 referendum and the whole independence push, continued cooperation is not guaranteed.
For the past two and a half years, the parties have been governing partners, but their relationship has been worsening following discrepancies on their approaches to achieve independence after the failed attempt in 2017.
While Junts per Catalunya – led by exiled leader Carles Puigdemont – advocates for "peaceful confrontation" with Spain and continuing "the mandate" of the referendum through unilateral means, ERC prioritizes dialogue with the Socialist-led Spanish government to eventually reach a deal over an agreed referendum, similar to Scotland's vote in 2014.
Clashes between the two pro-independence allies has caused the Catalan government to stumble more than once over the past few years, until the then president Quim Torra said on January 29, 2020 that the term had reached "the end of the road" following a "lack of loyalty" from ERC.
He decided to call an election to be held in the first months of the year, but Covid-19 forced it to be delayed and citizens are now expected to cast their votes on February 14, 2021 – only after Torra was barred from office, prompting the automatic election.
On Monday, asked whether she will support a cabinet led by ERC's Pere Aragonès if, for the first time, the left-wing party comes ahead of JxCat in the election, Borràs said that: "Only if he commits to building a clearly pro-independence government."
ERC: JxCat is "obsessed" with attacking them
This enraged ERC, who criticized JxCat's "obsession" with attacking them instead of pointing the finger of blame at Spain.
"We will not enter this game of saying who is more pro-independence because it is a pointless debate," said their spokesperson, Marta Vilalta.
On Saturday, another spokesperson, Sergi Sabrià, made clear they would support a government led by Borràs if JxCat beats them – and wondered whether it would also work the other way round.
ERC's presidential candidate, Pere Aragonès, said last weekend that the future cabinet has to have alliances "beyond the independence camp," referring to the anti-austerity Catalunya en Comú – Podem (CatECP).
Potential alliances with Socialists
Both government partners are accusing each other of not ruling out a post-electoral deal with the Catalan Socialists (PSC), who advocate for the unity of Spain and agreed to temporarily remove Catalonia's self-rule in 2017.
As for the Socialists, they have recently reached some cooperation with ERC, especially in Congress in Madrid to seal a deal for Spain's 2021 budget, but on Monday they ruled out governing together in Catalonia.
The deal over the spending plan has been criticized by both JxCat and also the far-left CUP, who are also pro-independence but have never been involved in government.
CatECP called on Aragonès' party not to repeat the current "misgovernment" with JxCat – they also requested that they show "bravery" by considering agreements beyond Puigdemont's party.
Borràs' open case of irregular public contracts
Meanwhile, Ciudadanos reacted to Borràs' internal vote victory by bringing up her open judicial case in the Supreme Court.
"She is an ambassador for the absconded Puigdemont, in Waterloo, and a person involved in crimes of misuse of public funds, breach of official duty and counterfeiting of documents," said Cs leader Carlos Carrizosa.
Borràs' case is under inquiry and involves allegations that she awarded irregular public contracts while she was head of the Institute of Catalan Letters.