Junts per Catalunya party to 'mainly' form coalitions with pro-independence political forces
Group also changes party rules to avoid suspending or expelling those members found guilty of corruption in "lawfare" trials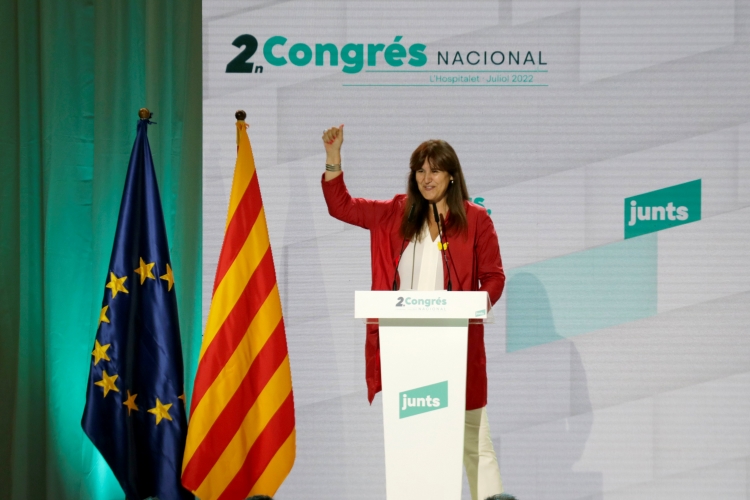 The pro-independence and junior member of the Catalan coalition government, Junts per Catalunya (JxCat) party agreed to "mainly" form executives with other political forces in favor of self-determination and against repression.
The party also proposed to eliminate inheritance and wealth taxes, while reducing personal income (IRPF) contributions from 50% to 45%. This was decided on Saturday during the second national congress held in Hospitalet de Llobregat, a neighboring town from Barcelona.
Regarding future coalition governments, "we will prioritize agreements with parties that share our model and are in favor of Catalonia's independence, however, we will also respect local autonomy," Jordi Fàbrega, Junts' responsible for municipal politics, said during a press conference.
Despite the announcement, the pro-independence party will still be open to agree with other political forces whether or not they are in favor of Catalonia's self-determination.
In fact, one of the deals reached between Junts and a unionist party is in Barcelona's regional council. In 2021, JxCat agreed with the Socialist party (PSC) prompting clashes with current senior coalition government member, Esquerra Republicana de Catalunya.
'Lawfare'
Junts also decided to change its party rules when they consider people have been indicted for corruption in "lawfare" cases. In this case, those accused will not be suspended from the political force nor expelled.
The proposal was voted in favor by 90.9% of the party members.
"A judicial sentence related to corruption, public funds misuse, or other crimes that are against the party's founding rules, will not be comprehended in "lawfare" cases, it will be an internal committee who will decide future steps," Catalan social rights minister Violant Cervera and member of Junts said on Saturday night.
Current party laws, as stated by Catalan political parties' general rules, establish that members will "automatically" be suspended from the force "when indicted in regards to corruption cases."
"Those condemned for one of those cases will be expelled ultimately," the law adds.
The decision arrives a few days after the prosecutors' office asked forsix years in prison for Laura Borràs, parliament speaker and party leader, for her to be barred from office for 21 years, and be fined €144,000, in relation to her allegedly awarding irregular contracts during her time at the head of the Institute of Catalan Letters.
Catalonia's High Court (TSJC) indicted Borràs on June 29 for supposedly favoring a friend, an IT professional, in what should have been put to a public tender, for which she is accused of an administrative breach of official duty, administrative fraud, falsification of a commercial document, and misuse of public funds.
The prosecutor's office, however, did not accuse Borràs of misuse of public funds, as there are no documents certifying that the now Parliament speaker paid extra for the requested works.
Junts per Catalunya
Junts per Catalunya, which means Together for Catalonia, was officially founded as a political party in July 2020, following a split with PDeCAT, but the name was also used for the umbrella group led by Puigdemont that won 34 seats in the 2017 Catalan elections.
That Junts per Catalunya grouping was the largest pro-independence force in the last parliament. They formed a coalition government with Esquerra (ERC) and held the presidency until Quim Torra's disqualification from office, which prompted the 2021 vote.
The group was led by former president Carles Puigdemont, until June, when current Parliament speaker Laura Borràs, took over.