Junqueras urges to be transferred to a Catalan prison
The Catalan vice president also asks the Supreme Court to let him attend opening session and investiture debate in Parliament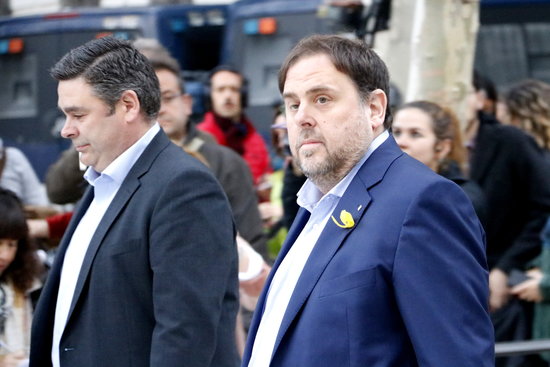 Oriol Junqueras, the jailed Catalan vice president, urged on Wednesday morning to be transferred to a Catalan prison. His lawyer, Andreu Van den Eynde, also asked the Spanish Supreme Court to allow Junqueras to attend the opening session in the Catalan Parliament on January 17, and the debate to select the next president to be held by January 31, as he is an elected MP following the December 21 election.
Provisional prison cannot mean 'excessive restriction of individual rights'
The arguments for the request include a reference to the United Nations Nelson Mandela Rules for the treatment of prisoners. They state that "unconvicted prisoners are presumed to be innocent and shall be treated as such." According to Van den Eynde, a provisional imprisonment "cannot have more distressing consequences than those needed." In his request, he also claims that this situation cannot result in "an excessive or disproportionate restriction of individual rights," for instance political rights.
Van den Eynde acknowledges that the fact of being in provisional prison means being unable to attend Parliament every day, but this "cannot imply not attending the plenary session or losing his vote." But if this happened, "this would alter the parliamentary arithmetic and would alter the people's will," he adds.