Jailed activist leader addresses Dublin meeting of human rights defenders
In a letter from prison, Jordi Cuixart accuses Spanish authorities of using judiciary and criminal law to "undermine basic human rights"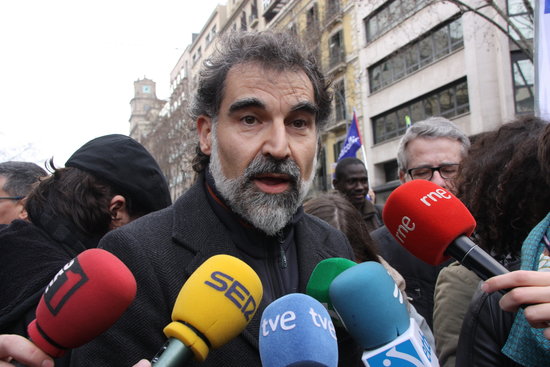 Pro-independence activist Jordi Cuixart, who is in custody awaiting a verdict, had a speech read out on Thursday at the world's largest meeting of human rights defenders: the Dublin Platform for Human Rights Defenders.
Taking place from October 2 to 4, the biannual meeting brings together more than 120 at-risk and persecuted activists from over 90 countries around the world, with the aim of sharing strategies for continuing the struggle for human rights.
Cuixart, whose words were read out by a representative of the civil group he heads, Òmnium Cultural, warned that "the fact that Spain is using the courts and criminal law to undermine basic human rights it is very bad news for Europe as a whole, and for the world."
The Òmnium president was locked up in October 2017, soon after the unilateral referendum and parliament's declaration of independence, and has been in prison ever since accused of rebellion and facing up to 17 years in jail.
Charged with violence that "obviously never occurred"
However, In his address, Cuixart pointed out that under Spanish law the offenses he has been charged with "require having committed violence with a view to overthrowing the state, which obviously never occurred."
The activist leader went on to describe his "crime" as "leading a peaceful demonstration using my right to free speech and freedom of assembly to defend Catalonia's self-determination referendum on 1 October 2017."
Cuixart also pointed out that Spain's acting president, Pedro Sánchez, has ignored "the opinion of the United Nations Working Group on Arbitrary Detention, which stated that our detention is arbitrary and called for our immediate release."
The Òmnium head also said the Spanish authorities "have also ignored numerous calls
for our release and the dropping of charges from groups such as Amnesty International, the World Organisation Against Torture and Front Line Defenders."
Commitment to human rights "strengthened"
Cuixart ended his speech defiantly, saying that "715 nights in prison have only strengthened my commitment to human rights: within these walls I have become increasingly aware of the dire situation we are seeing all over the world."
The Dublin Platform for Human Rights Defenders first took place in 2010 and is organized biannually by the Front Line Defenders group, which was founded in Dublin in 2001 with the aim of protecting human rights defenders at risk.