'It's Spain's problem': European Parliament president on vacant Catalan seats
Antonio Tajani says decision to suspend registration of Spain's MEPs was "administrative" and not political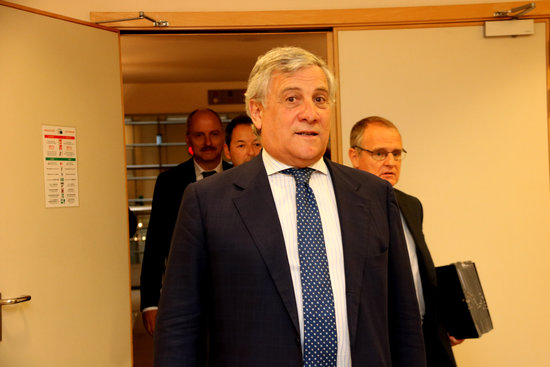 The European Parliament president Antonio Tajani has said that "it is Spain's problem" that some of their seats have been not been filled after the state declared those of exiled leaders Carles Puigdemont and Toni Comín and their jailed pro-independence colleague Oriol Junqueras vacant.
The three recently-elected MEPs could not take up their seats as they were prevented from attending the swearing-in process in Madrid. While the Puigdemont and Comín did not have their Spanish arrest warrants lifted, Junqueras was not granted permission to leave prison to take the oath.
Tajani made these remarks after a meeting of senior EU Parliament officials, where four of its vice-presidents requested clarification on the issue: Dimitrios Papadimoulis from Greece (GUE-NGL); Fabio Massimo Castaldo from Italy (EFDD); Pável Telicka from the Czech Republic (ALDE); and Heidi Hautala from Finland (Greens/EFA).
The Catalan News Agency (ACN) has learned that during the meeting, Tajani made it clear that it is within Spain's powers to appoint and subsequently inform them of their MEPs.
Tajani even read out a ruling by the European Court of Justice, which states that "the European Parliament cannot get involved [deciding] in who is, and who is not an MEP."
Talking to the press, Tajani also referred to the decision to suspend the provisional accreditation given to Spain's MEPs following the election – a decision taken shortly after they refused access to Puigdemont and Comín to collect these passes as some other Spanish MEPs had done.
"I did not take the decision, it is not a matter for the president, but one for the administration," he said on Monday.