Pro-independence groups call for protest coinciding with Macron-Sánchez summit in Barcelona
Organizations describe January 19 meeting as a "provocation"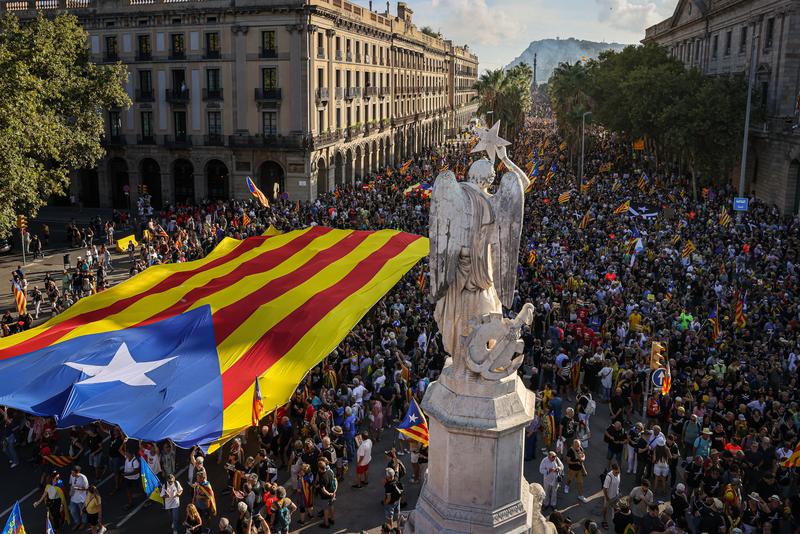 Pro-independence civil society organizations Catalan National Assembly (ANC), Òmnium Cultural, and Consell per la República have called for a mass protest on January 19 coinciding with French president Emmanuel Macron and Spanish PM Pedro Sánchez's meeting in Barcelona.
Groups like AMI, CIEMEN, Intersindical-CSC and Intersindical Alternativa de Catalunya have already confirmed they will be attending the mobilization, while political party Junts per Catalunya's secretary general Jordi Turull has also encouraged people - including president Pere Aragonès - to take part.
The associations criticized Sánchez for choosing the Catalan capital for the meeting in order to "prove the push for independence had ended," something they believe to be "false" and describe as "a provocation" as "there has not been a political solution to the conflict and there are still politicians in exile."
According to them, there are also around 500 people pending trial for pro-independence-related actions, and they argue that "the desire for independence is stronger than ever" as both Spain and France "repress" the Catalan nation. Because of this, their demands will include "strengthening the Catalan language immersion system in schools" as well as requests for Northern Catalonia.
The exact location of the demonstration is yet to be announced as the site of the Spain-France summit has not been disclosed, but the protest organizers are expected to hold a press conference about it in the coming days.
Puigdemont: "Let's unite on January 19"
Former Catalan president Carles Puigdemont, who has lived in Belgium since late 2017 to evade prosecution for his role behind the 2017 referendum deemed illegal by Spain, sent a tweet on January 6 in which he called for people to come together on January 19 in protest.
"They have worked to demobilize us and break our unity, which have been two great tools to defend Catalonia against a state that discriminates against us and harms us because we are Catalan," he said.
Several pro-independence parties have already confirmed that they will take part in the rally, including the political force in charge of the government, Esquerra.
"The independence push is still alive, our desires are still clear, we'll continue calling for Catalan self-determination and an amnesty," said spokesperson Marta Vilalta on Monday.