If Spain 'censures' reinstatement of officials it will be acting like 'dictatorship,' says deposed minister
Lluís Puig, minister of culture deposed by the Spanish government, criticizes that "Spain is lecturing" Belgium and Germany over European arrest warrants and the judicial system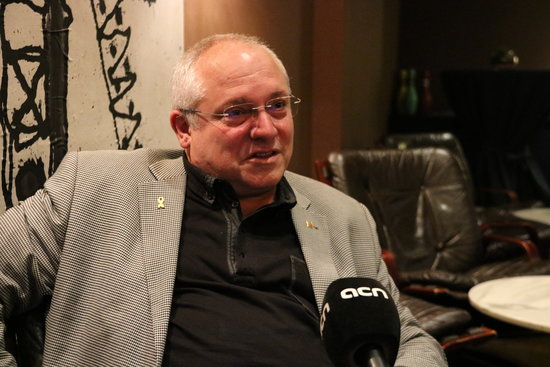 Minister of culture Lluís Puig, deposed during the implementation of Article 155 by Rajoy's executive, has a warning for Spain. Should it "censure" his own reinstatement as well as that of Puigdemont's other ministers deposed by the Spanish constitutional measure, it will be acting like a "dictatorship," said Puig in an interview with the Catalan News Agency (ACN).
The question of reinstating the sacked government has been a much discussed topic lately, as Quim Torra, newly elected Catalan president, has stated it to be his objective, while the Spanish government warns to take action against such a move. Puig, though, noted that the electoral manifestoes for both Junts per Catalunya (JxCat) and Esquerra Republicana (ERC) talked about reinstatement.
The deposed minister further explained that he hopes that, from Barcelona, "everything possible" will be done to make this a reality. Still, he admitted that problems might come up. "If Torra signs a nomination decree and it doesn't get published because the Spanish government censures or vetoes it, there's only one way to describe it: a dictatorship."
For his part, Puig would be more than happy to retake his post as culture minister for Catalonia, even from Brussels. He explained that he knows the requirements and the job "like the back of his hand." The deposed minister added that if the Spanish minister Méndez de Vigo was able to manage culture in Catalonia "from 600km away without showing up a single day for six months" he sees himself as "more capable" to do it from twice the distance. One of the reasons for this, he explained, was that "he's been very present in many places in Catalonia in the past months" over social media or Skype.
All in all, Puig stated that to not "interfere" with the Catalan administration, he would step down "immediately" if he saw that he could not manage his post as a minister "correctly." "The first thing I'd do as a minister is to give assurances that, should I not be able to carry out my work correctly, I would step down as soon as I'd see it," Puig insisted.
Specifically, he referred to if cultural politics and the ministry itself were not possible to direct "well" from Brussels. "Personally, on a management level, it doesn't intimidate me at all," he expressed, noting that he's worked more than 17 years in the ministry and he knows it "like the back of his hand." But, ultimately, if Quim Torra were to nominate someone else to manage culture in Catalonia, Puig explained he'd suggest the newly appointed minister come to Brussels, so the transition can be done "face to face."
'Victory' for arrest warrant rejection
Recently, Lluís Puig and Toni Comín and Meritxell Serret, two other deposed ministers from Puigdemont's cabinet also residing in Belgium, received a final decision on the extradition order against them issued by Spain: it was rejected. A Belgian judge denied the petition due to form "irregularities" something that Puig himself sees a "victory." Still, he explained, he would have liked to debate on the content of the arrest warrant itself, because "it would have ended with both the charges of rebellion as well as that of misuse of public funds," he stated, referring to the crimes him and his colleagues are accused of.
He also revealed that they had somewhat predicted the Belgian courts would respond as they did, since defense lawyers detected the irregularities from the beginning and sent it on to the judge from day one. That didn't defer from his "surprise" that the Belgian justice recognized "all irregularities," he said, adding that "it made us very happy."
What's more, he expressed that for Spain to criticize the Belgian judicial decision "is not the way to make friends and find allies," as he also noted happened with the German courts when they rejected extraditing Puigemont on charges of rebellion. "European arrest warrants are a tool to create alliances between justice systems, it's not normal that the Spanish judiciary is lecturing everyone."
In the past few days the Spanish prosecutor requested that the Supreme Court issue a third arrest warrant against the sacked ministers in Belgium. According to Puig, though, if that were to happen "Spain would be in a position of doubtful credibility." In that eventuality, the deposed culture minister explained that, before a justice system that he considers just, fair, and that doesn't judge him preemptively, he would be "enthusiastic to show that [he] did not misuse a single euro." Ultimately, he has faith that him, Serret and Comín will be given "total and final freedom."