Group removes yellow ribbon from Barcelona town hall before being detained by police
Catalan president defied electoral authority orders to take "partisan symbols" down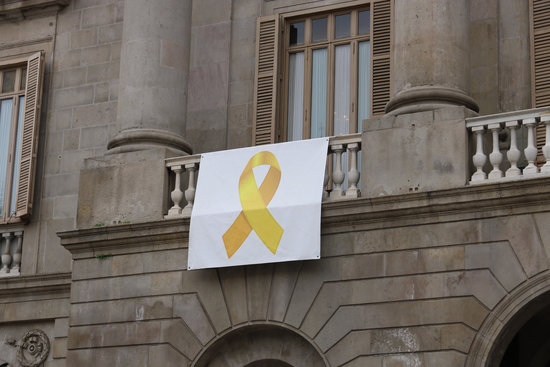 A group of people removed the yellow ribbon from Barcelona city's town hall overnight using a stick and attempted to do the same to the Catalan government building. Before succeeding in removing the ribbon from the government building, they were stopped by local police, detained and identified.
The yellow ribbon is used as a symbol for solidarity with the jailed and exiled pro-independence Catalan politicians and political activists.
Yesterday, Catalan president Quim Torra defied orders from Spain's electoral authority to remove the yellow ribbons from government buildings, at the risk of being fined. On Monday, Torra was given a 48-hour deadline to remove the "partisan symbols," as Spain's electoral authority described them.
The actions were captured and broadcast on a Twitter account favorable to the unity of Spain. The two buildings - Barcelona town hall and Catalan government building - are located opposite each other in the same square in the center of Barcelona.
Barcelona city hall decided to hang a yellow ribbon on the front of the town hall building calling for the release of the "political prisoners," and in support of their families and friends.
When stopped by the police, the group of people argued that the yellow ribbons should not be there, as "a judge has ordered it," in reference to the Electoral Board. Five people involved were identified by the police.
Once the ribbon is removed from the building, the police grabbed it and argued with the group telling them it was property of the city council, saying "we do not defend anything, we cannot let you take this with you." The group responded, "this is disobedience of a judge."
Sources close to ACN said that the action happened around 1:30 am and that the city council will put another yellow ribbon up in its place.