Government sends message on Barcelona Airport expansion: No backing for plan that 'destroys' lagoon
"Environmental protection is a red line" for Catalan executive who insist extension must comply with terms agreed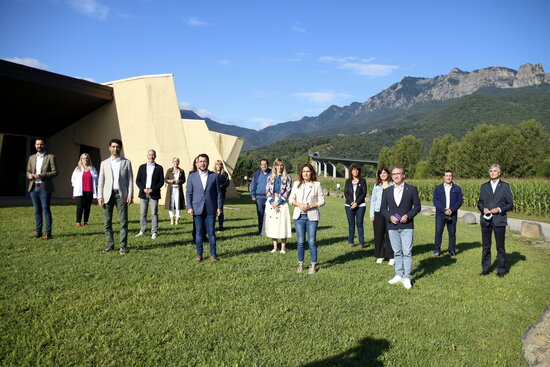 The Catalan government has sent a "shared" message this Saturday that it will not endorse any proposal to expand Barcelona-El Prat Airport that "destroys" the adjacent La Ricarda lagoon.
"Environmental protection is a red line," according to government spokesperson Patricia Plaja, who also stressed that the airport extension must comply with the terms and conditions already agreed in the master plan.
Catalan president Pere Aragonès demanded explanations on Friday afternoon after it was revealed that the final expansion plan included construction in the area of the La Ricarda lagoon nature reserve, something he warned did not reflect government consensus.
According to planning documents seen by the Catalan News Agency (specifically, the Airport Planning and Regulation Document (DORA) 2022-2026), Aena, the group in charge of the main airports in Spain, intends to expand the airfield eastwards "affecting areas of the Natura 2000 Network," ie the lagoon.
Aena sources claim that the Catalan government was fully aware of the plan, as it was part of the agreement between the Catalan and Spanish administrations reached in early August.
The Spanish cabinet is due to deliberate on the plans before the end of September, but construction in the nature reserve can only begin if the European Commission gives its approval.
Minister: "environmental criteria must be the priority"
Environmental criteria must be the "priority" when it comes to the expansion of Barcelona Airport, says business and work minister Roger Torrent.
In an interview with the Catalan News Agency (ACN), the former speaker of the Catalan parliament admitted that it was important to "find the balance" between environmental concerns and competitiveness but that the former were "indispensable."
"It cannot be that we are kidnapped by private interests that do not fit with social interests, with the common good," Torrent argued, but he added that it was "very important" that Barcelona Airport can attract intercontinental flights, one of the main arguments for expanding the airport.
The debate on the future of Catalonia's main airport has been raging for months. For an overview, listen to the podcast below, recorded in July: Expanding Barcelona Airport - economic necessity or environmental folly?