Government could drop drought sanctions at water summit with parliamentary groups
25% of municipalities do not comply with new drought decree approved in chamber last week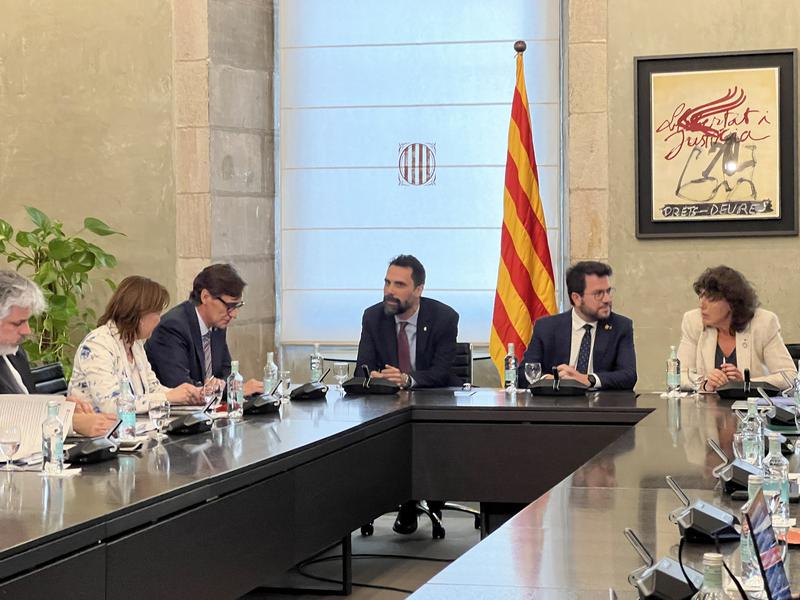 The Catalan government could drop drought sanctions on municipalities during a water summit held in the headquarters of the executive on Friday evening with the vast majority of parliamentary groups and the Catalan Water Agency (ACA).
The chamber approved a drought decree proposed by the cabinet last week thanks to the abstention of the Socialists, Junts, CUP, and En Comú Podem and the vote in favor of Esquerra Republicana de Catalunya (ERC). The People's Party, Ciudadanos, and Vox voted against it.
Even if these parliamentary groups allowed the decree to go through and set sanctions on municipalities that waste more water than required for the number of citizens, some do not agree with the measure.
Some groups even say that the legislation is "not enough" to tackle the water crisis and that the cabinet should have negotiated with other political parties ahead of proposing the decree.
The Socialists asked for sanctions to be dropped, or at least to be temporarily suspended for a year, as they believe the cabinet just wants to tax those who do not comply with the legislation. Junts also asked for a temporary suspension.
So far, the government announced that no sanctions had been filed, but the announcement has already made city councils across Catalonia aware of the circumstances, and some have already reduced their water consumption and set new water emergency plans.
Around 25% of the municipalities currently consume more water than the restrictions set, representing less than 10% of the population. Even though, considering the current drought and lack of rain, tackling the consumption of these towns could be key during the emergency situation.
These potential sanctions, however, are not shared by parties outside of the government who hope for the executive to strip them from the decree during the summit.
Currently, the only group in the cabinet is Esquerra Republicana since Junts left the executive in October 2022.
Members of the Catalan Water Agency, several cabinet ministers, and all the political groups except for far-right Vox take part in the summit.
Reservoirs at 27%
After weeks without heavy rain, reservoirs in Catalonia are at 27% of their capacity, according to the Catalan Water Agency, as of March 31, 2023.
Some of these reservoirs have had to organize fish culls to avoid dead fish contaminating the drinking water.
Learn more about one of these reservoirs, 'Pantà de Sau,' in our Filling the Sink podcast episode.