Extreme drought forces fish cull in Sau reservoir to preserve water quality
Climate action department estimates current volume of reservoir can provide water to one million inhabitants for 3 months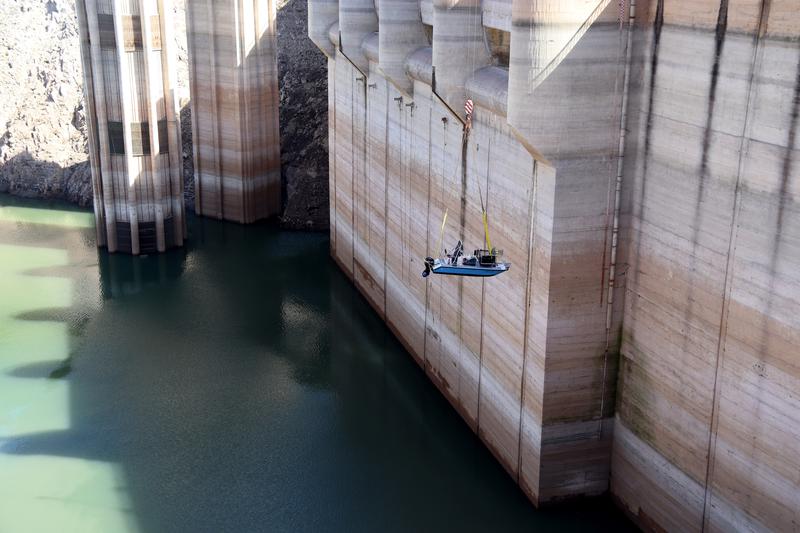 Fish in the Sau reservoir will be caught and killed in order to preserve the quality of the water amid the ongoing drought.
The Catalan Water Agency (ACA) and the government's climate action department announced the measure on Monday, saying the reservoir at its current level could provide water to one million inhabitants for three months.
The aim of the operation is to preserve the water and release it downriver to the Susqueda reservoir.
"If we do nothing and it doesn't rain, [the fish] will die anyway," thereby contaminating the water, explained Jordi Ruiz, an environmental official who leads conservation projects and deals with invasive species.
There are an estimated 40 to 60 tons of fish in the reservoir, nine exotic species and one species – the Ebre barb – that is native to Catalonia, but not to the Ter river where the dam is located.
The Sau reservoir is the most iconic in Catalonia. The village of Sant Romà de Sau was flooded in the early 1960s when the river was dammed and its church tower can still be seen when the water level is low.
Have a listen to our recent Filling the Sink podcast about the drought and Sau reservoir here:
Environmental risk
On a visit to the reservoir, officials explained the environmental risk of letting the fish die from lack of water and oxygen.
"Temperatures have shifted forward by a month and that causes the water to stratify, and the fish below to be starved of oxygen and suffocate."
In addition, toxic substances such as ammonium are released from the subsoil, which also significantly worsens the quality of the water.
Water temperature and ammonium levels will be checked before water is transferred to the Susqueda reservior, Elisabet Mas of the ACA explained.
Fish transfer ruled out
In 2005, about 16 tons of fish were removed from the reservoir in a similar operation, more than a ton of fish per day.
Echo sounding is being carried out at different points in the reservoir to have more accurate data on the current number of fish.
Experts ruled out moving the fish to another location, saying it could cause sanitary problems. Ruiz pointed out that, by law, exotic species should be killed, and said that should any native fish appear, they will be moved to an appropriate stretch of river.
Extraction
Fishing is expected to begin on Wednesday, involving up to five boats, and could go on for six weeks.
Around 100 people, including residents and fishers, gathered at the dam a week ago to protest the decision to extract the fish.
Water transfer increased
The government recently ordered an increase in the supply of water from the Sau reservoir to the Susqueda reservoir, from 0.3 to 0.5 cubic hectometers (hm3) a day, in order to guarantee the quality of the water supply to the public.