Government against latest European traveling restrictions on Catalonia
UK obligatory quarantine to have 'very serious impact on tourism,' warns foreign minister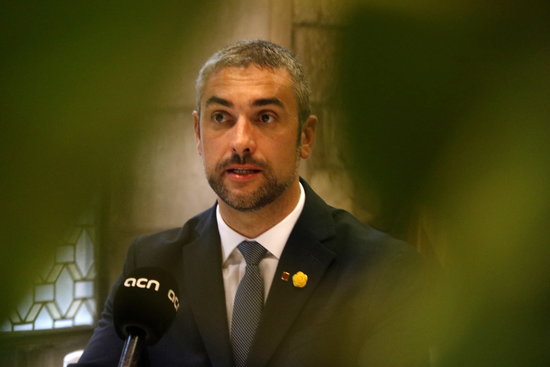 The Catalan government has rejected the latest traveling restrictions of several European countries on Catalonia.
On Sunday morning, the UK enforced a 14-day obligatory quarantine for any travelers coming from all of Spain, while Belgium applied the same measure for anyone arriving from Lleida, plus the obligation to undergo a PCR test – Brussels also banned its citizens going to the Catalan Lleida province. Norway imposed a 10-day quarantine for people coming from Spain, and some hours later France recommended not to travel to Catalonia.
The UK restriction led the tour operator TUI to cancel all of its flights to Spain until August 9, except for the Balearic and Canary islands.
Reacting to these measures, the Catalan foreign minister, Bernat Solé, said that his government does not share decisions like the one taken by the UK, which are "taken unilaterally," he said.
He also criticized that the French prime minister's comments on Friday "were without informing and happening suddenly."
"We would have liked to know it before taking into account it is a cross-border territory, with human and trade relations," he added.
'Better' situation than in Paris region
In the same vein, Catalonia's delegate in France, Daniel Camós, believes that the French recommendation "makes no sense" because the country is "too big and heterogeneous" in the Covid-19 impact.
"I could understand that they advise not going to Lleida or Barcelona, but not Catalonia as a whole," he said reminding that tourist areas such as Costa Brava and Costa Daurada have a "reasonably good" situation.
"A reason of hope is that in late July or early August tourists come back to France saying the truth when they get home, saying that in a lot of areas the situation is better than in the Paris region from a health point of view," added Camós.
Hard blow" on local tourism
In the past few days, the Catalan business minister, Àngels Chacon, has repeatedly admitted that the advice will deal a "hard blow" to the local tourism industry.
Also throughout the weekend, Vice President Pere Aragonès rejected the UK's decision and reminded the safety measures put in place in the country.
He also expressed his support to the local retail and tourism sectors. "We support them so that their activities are safe now that hard times are coming," he said.
Less vehiclestowards Catalonia
French residents accounts for some 20% of the whole tourism flow to Catalonia, with four million out of the roughly 20 every year. Around two million Brits visit the country in a normal year.
On Sunday, the Catalan traffic authority reported that on Saturday 17% less vehicles than the previous Saturday crossed the French-Spanish border towards Alt Empordà using the AP-7 highway (the decrease is 53% compared to an equivalent day a year ago). Towards France, the drop was only 4.3%.