Acting Vic mayor Anna Erra set to become new parliament speaker
Pro-independence Junts proposes central Catalonia MP as replacement for convicted Laura Borràs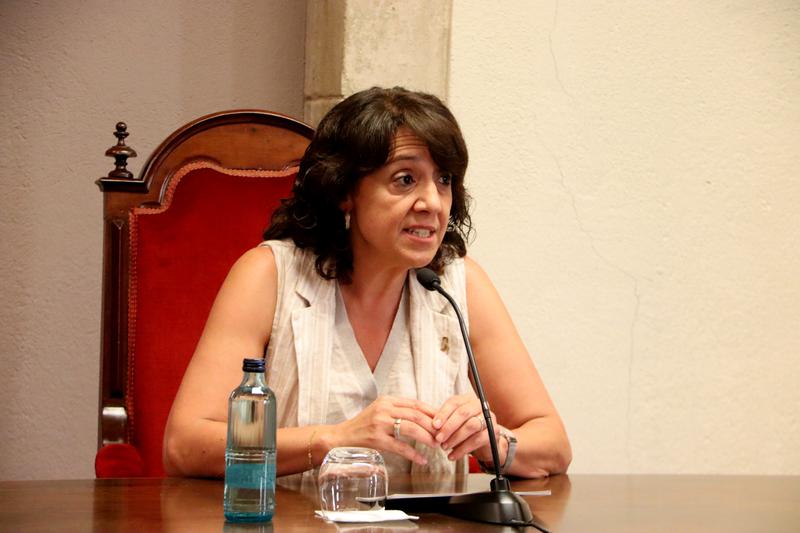 The acting mayor of Vic, Anna Erra, is poised to become the new Catalan parliament speaker.
Senior member of pro-independence Junts party, she was appointed by her political force as candidate for the post on Tuesday.
The chamber needs a new leader after its speaker until now, Laura Borràs, was sentenced to disqualification after she was found guilty of splitting contracts to avoid public tenders favoring her friend and IT specialist Isaías Herrero, when she was head of the Institute of Catalan Letters.
While Junts has no absolute majority in the chamber, but is the third biggest party with 32 seats out of 135, the also pro-independence Esquerra is understood to back her bid. CUP would be also needed to garner a majority, and the far-left party has already said that they will vote blank in order to ease the bid of Junts' candidate.
The current term began with a shared government between Esquerra and Junts, who agreed to grant the presidential post to the former's Pere Aragonès and appoint the latter's Laura Borràs as speaker.
In October 2022, Junts quit the government, but the only party remaining in the executive is in any case expected to back Erra.
In a press conference on Tuesday, Borràs announced the name of her successor after a party leadership meeting.
"The country needs a parliament speaker who is committed to the October 1 independence referendum," said Borràs, who was ousted from the post last Thursday evening.
Laura Borràs ousted despite no final ruling
The Spanish electoral board decided to strip Laura Borràs of her MP seat in early May although her conviction is not final.
Last week, the chamber bureau decided to oust her after the Supreme Court denied their appeal against the electoral board's move to remove her MP status.
Her successor, Anna Erra, has been the mayor of Vic since 2015, but did not run in the recent local election and will end her stint as leader of the central Catalonia town on June 17 - her party won the vote but lost the absolute majority achieved by Erra four years ago.
The 58-year-old politician has been MP in the Catalan parliament since 2018 and councilor in Vic since 2007.
She is vice president of Junts and before being involved in politics, she had spent 21 years as school teacher.