Former president Mas to stay in PDeCAT and not join Puigdemont's party
Center-right politician avoids following path of his successor, jailed leaders and ministers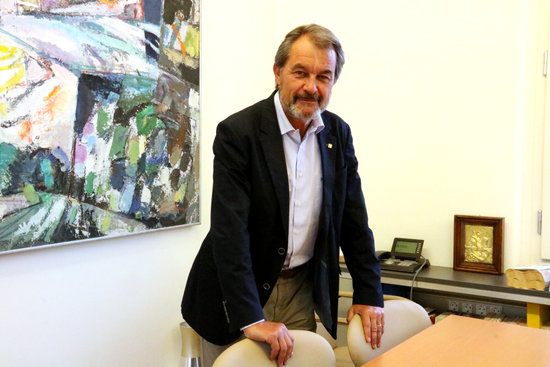 Former Catalan president Artur Mas will remain in the center-right PDeCAT party and not give up his membership to join Carles Puigdemont's new project, Junts per Catalunya (JxCat).
Party sources said that this decision will make some of its members reconsider joining Mas' successor.
PDeCAT is hopeful it will be able to stop the departure of members after a number of senior officials quit in the past few days to focus exclusively on JxCat, including, on Monday, Puigdemont himself, the three center-right pro-independence jailed leaders, and four Catalan ministers.
Another prominent figure to express support for Puigdemont's JxCat is Marta Madrenas, the mayor of the northern city of Girona. According to her, "The PDeCAT members will understand that what Junts per Catalunya proposes, coming together under this platform, is the way forward."
Meanwhile, David Mejía of Ciudadanos described the rift between PDeCAT and JxCat as "part of the soap opera that the independence push has become."
Mas appointed Puigdemont as his successor in 2016
Mas was a key person behind the transition of the historic center-right group, CDC, entangled in corruption cases before ceasing to exist in 2016, to PDeCAT.
He famously appointed Puigdemont as his successor to the presidential post in January 2016 and supported the Junts per Catalunya group when it was formed by PDeCAT and independent candidates to run in the 2017 election.
Yet, Puigdemont's closest allies began to push for merging the old party into a new one led by the exiled leader.
Despite long negotiations, both sides were unable to reach a deal and Puigdemont announced the creation of a new party, also called Junts per Catalunya, in early July this year.
The exiled leader and dozens of party officials joined the breakaway party on Monday, making the split between the two groups evident, and after a long silence, Artur Mas chose not to side with his successor.
No return to politics
On September 14, the former president defended his reasons for not joining Puigdemont's party, saying he felt it could contribute to further internal separation.
Mas also said he would not be returning to the front line of politics anymore, and argued that he left the door to a return open in various interviews in the past in the event that somebody were to ask him for help to "rebuild bridges."