Former parliament speakers request pardon for jailed leader Forcadell
De Gispert, Rigol and Benach say 'fairest' path is an amnesty law, but harder to approve than a reprieve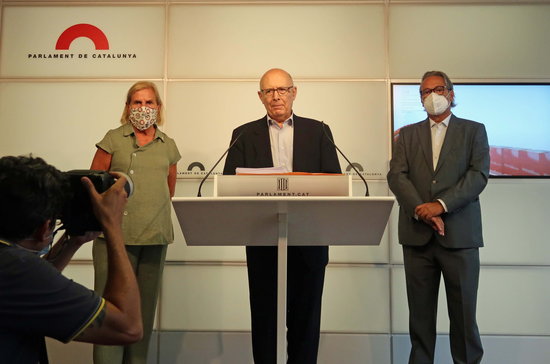 Three former Catalan parliament speakers have requested the Spanish government a pardon for Carme Forcadell, also ex-head of the chamber, who is serving an 11.5-year prison sentence for her role in the 2017 independence push.
Núria de Gispert, Joan Rigol and Ernest Benach, the only three ex-heads of the chamber alive apart from Forcadell, announced it on Monday, arguing that a reprieve "does not imply regretting or accepting" the events for what she was convicted in October 2019.
They said that they are aware the preferred path of her is an amnesty law, but since this would require a majority in both Spain's congress and senate, they think a pardon by the Spanish government "is easier to achieve."
De Gispert, Rigol and Benach made clear that "it is not Forcadell" who makes the request, but them, and that they considered they had to do it "for her."
"The political conflict between Catalonia and Spain will not be resolved through the judiciary," reads the request.
According to the text, Forcadell has spent "an absolutely excessive period of time" behind bars.
"Her attitude has been exemplary, both in her relationship with the workers of the several prisons where she has been imprisoned, and also with the rest of inmates," reads the petition.
This is the second request of pardon for a Catalan pro-independence jailed leader, after the trade union UGT did so for Dolors Bassa, former work minister, on June 15.
According to the former parliament speakers, the Spanish government has one year to reply to the petitions.