Former Catalan officials in auditor's court over misuse of funds charges
Ex-president Mas and former ministers testify over allegations they used 5.2 million euros of public money to finance 2014 independence vote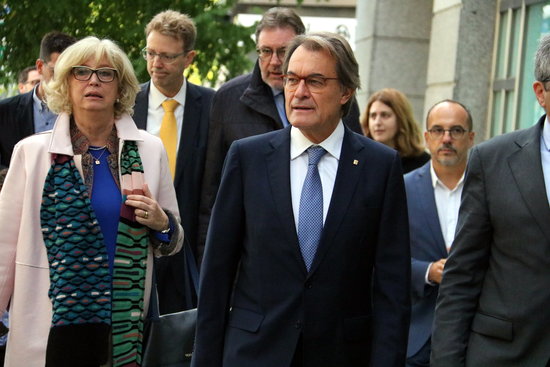 Former Catalan president Artur Mas, his former vice president Joana Ortega, and his former ministers Irene Rigau and Francesc Homs all appeared before Spain's Court of Auditors in Madrid on Wednesday morning, at 10am.
The former officials are facing a claim of 5.2 million euros, the amount the court maintains they paid with public money to fund the symbolic independence referendum they organized on November 9, 2014, which the Spanish authorities declared illegal.
In fact, before the trial started, the former officials were forced to deposit with the court assets worth 5.2 million euros as bail. In another trial related to the 2014 vote, the former officials were found guilty of disobedience and temporarily barred from public office.
Suit filed by anti-independence organizations
The investigation by the Court of Auditors began on July 19 after a lawsuit was filed by the anti-independence organizations, Societat Civil Catalana and Abogados Catalanes por la Constitución, with the support of Spain's Attorney General.
In the run-up to Wednesday's court appearances, a number of public hearings have been held to submit evidence. After the former officials testify on Wednesday, the trial will move on to the sentencing stage. If sentenced, the former officials will be able to appeal.
Speaking on Spanish radio early in the morning before making his way to court, Mas described the trial as an example of "vengeance" by Societat Civil Catalana and "others" who want to "financially ruin us."
Should the former officials be found guilty of misusing public funds, the funds they have already deposited with the court will be transferred to the institution affected, which in this case is the Catalan government. Any payment will be shared between the defendants.
Support from political allies
On Tuesday, president Quim Torra and government members met the former officials to express their support for them before they left for Madrid. Waiting for them outside the court were several members of Catalonia's main pro-independence parties, PDeCAT and ERC.
In the trials in which the former officials were found guilty of disobedience, Mas was barred from public office for two years, Ortega and Rigau for one year nine months, and Homs, in a separate case, for one year one month. They all received fines of between 24,000 and 26,000 euros.