Former Barcelona councilor Manuel Valls loses bid to become French MP
Politician aimed to represent French citizens in Monaco, Portugal, Spain, and Andorra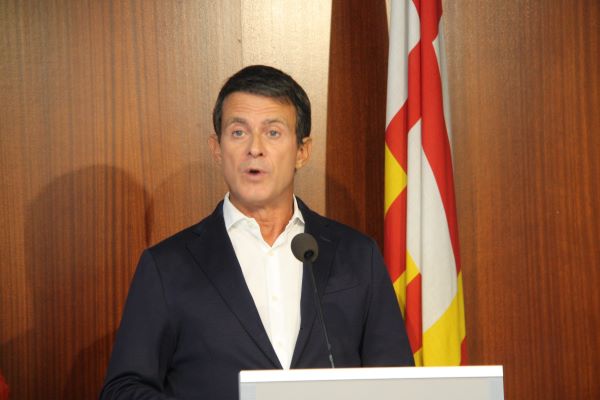 Former Barcelona councilor Manuel Valls lost his bid to become French MP after coming third in the vote for a post to represent citizens residing in Monaco, Andorra, Spain and Portugal.
Thus, he is eliminated in the first round of the French Legislative Election, which took place on Sunday.
According to official data from the interior ministry, the former Barcelona councilor (4,024 votes) was surpassed by Barcelona's Institut Français' teacher Renaud Le Berre (6,942 votes), and Stéphane Vojetta (6,123), the current MP for this constituency, and the two will vie for the post in the second round, to be held on June 19.
Among those voting in the Barcelona consulate, that is, French citizens residing in Catalonia, Balearic Islands and Aragon, Valls also came third, with 1,059 votes, very far from Le Berre, with 2,701.
The also former French PM did win among voters living in Andorra and Monaco.
After admitting defeat, Valls recommended voters to support Vojetta in the second round on Twitter and deleted his account in the social media platform.
Stint as Barcelona local councilor
The Barcelona-born politician ran for mayor of the Catalan capital in the May 2019 election, and while his bid was unsuccessful, his candidacy got 6 seats which were key to preventing pro-independence ERC's Ernest Maragall from the mayorship despite winning the vote. Instead, thanks to Valls' support, mayor Ada Colau was able to be reelected after coming second.
Valls ran in the Barcelona vote with a platform comprised of independent candidates and also the Ciudadanos party – yet, just a few months after the election, he undid the alliance with the unionist political group soon after Ciudadanos sided with the conservative People's Party and far-right Vox in several local and regional governments across Spain and voted against Socialist Pedro Sánchez staying in power.
"Ciudadanos calls itself liberal, progressive and pro-European, and many of those in the party are, but it has become the party now reaching agreements with a reactionary, anti-European force," he said at the time. A few months later, the party began its freefall dropping from 57 to 10 MPs in the Spanish congress.
In August 2021, Valls quit the Barcelona local council and began to target French politics again, after his two-and-a-half-year stint as prime minister of the country from 2014 and 2016 under President François Hollande, two years as home affairs minister, and over ten years as MP for the Socialist Party.
s