Foreign minister announces new government office to open in Mexico
During a cultural event in the Mexican capital, Alfred Bosch says future delegation will act as gateway to Latin America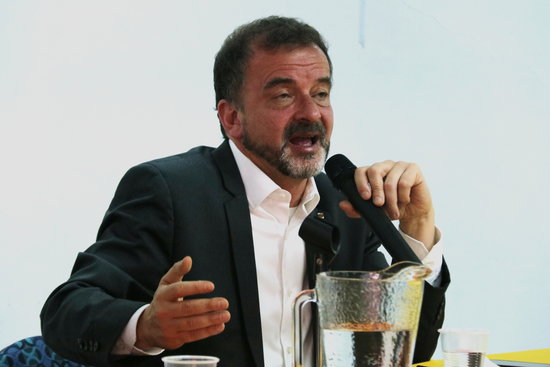 The Catalan government is to open another foreign office, this time in Mexico, according to foreign minister Alfred Bosch, who is on an official trip to the Latin American country.
Describing the function of the future office as a gateway to Latin America, Bosch gave no details, saying "we'll see when it can be done exactly and under what conditions."
Bosch broke the news at an event organized by the Orfeó Català choral society in Mexico City, which complained about interference in its activities by Spanish diplomats.
The news about the planned office comes after the government recently announced its intention to extend its network of foreign offices beyond Europe.
The foreign department wants to expand into new areas of influence, such as Latin America: "It is an obligation of the Catalan government to be present on five continents," said Bosch.
Apart from protecting the rights of Catalans living abroad, Bosch said the office would establish new contacts in Mexico in areas such as tourism, trade, culture, and education.
Call for more government aid
It is the second time Bosch has visited the Mexican branch of the Orfeó. Established in 1906, the minister described it as "a piece of Catalonia's history that must be cultivated."
Yet, some of the members demanded more help from the Catalan authorities, which Bosch said would be forthcoming, but the executive was still adjusting after the period of direct rule.
Among some of the proposals that came out of the event was digitizing the association's archive, and forging stronger links between the Orfeó and Catalonia's Open University.
Spanish diplomatic interference
Bosch also heard accusations of Spanish diplomatic pressure on the Mexican government to cancel pro-independence events, and disrupt postal voting by Catalan citizens living there.
The foreign minister called on the Spanish ambassador to Mexico to "stop interfering" in the freedom of associations, and to spend his time on "important problems."