Far-right Vox isolated in Spanish Congress as all parties vote against censure motion
Motion of no confidence in Spanish president defeated by 298 votes to 52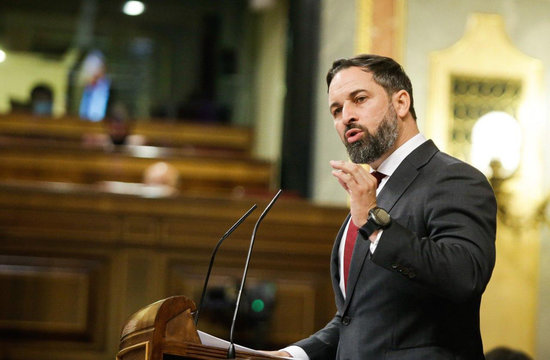 The Spanish Congress has overwhelmingly rejected a motion of no confidence in president Pedro Sánchez, brought by the far-right party Vox.
In the end, Vox's 52 MPs were left isolated as the only ones to vote in favor of the motion, while the rest of the house voted 'no', a total of 298. There were no abstentions.
Although on paper the Spanish president was the focus of the debate, the overall result of the vote was never in doubt, and in reality, much of the attention was focused on how the right-wing parties Ciudadanos (Cs) and the People's Party (PP) would vote.
Significantly, both parties, which are allies of Vox in some regional and local governments in Spain, rejected the motion, rather than abstaining.
Repeatedly criticized by left-wing parties for being too close to Vox, PP leader Pablo Casado distanced himself from the far-right party and gave his harshest speech against them to date.
"The worst in 80 years"
During the debate, Vox leader Santiago Abascal described the current Spanish government as "the worst in 80 years of history," clearly implying that, in his view, the brutal dictatorship of Francisco Franco was preferable to the current democratically elected regime.
Referring to the notion of Catalan independence, Abascal said that "if the renegades managed to break Spain, which will not happen, they would only be able to form the Catalan Islamic Republic."
Many MPs spoke out against the discourse espoused by Vox, describing it as "racist", "sexist" and "fascist."
The Spanish president Pedro Sánchez addressed Abascal during the debate on Wednesday: "You're not interested in the freedom of citizens. What you're interested in is the cultural homogenization of society and the suppression of anything different."
PP leader Pablo Casado said the motion was "a smokescreen" that only goes to show Abascal's "politics of division," as well as a "waste of time in the midst of the second wave of the pandemic."
"We are against the division that you seek, the polarization that you need," Casado told Abascal.
Spanish vice president Pablo Iglesias, of Podemos, then praised Casado for his position but also claimed that his speech distancing himself from the far-right party had "come very late."
Thursday's vote was the fifth of its kind since democracy was restored in Spain following the death of Franco, but no previous motion received such little support.