Failed extraditions show 'justice will win,' says Catalan president-elect
Parliament speaker and pro-independence forces celebrate news while CatECP party condemn Spanish judiciary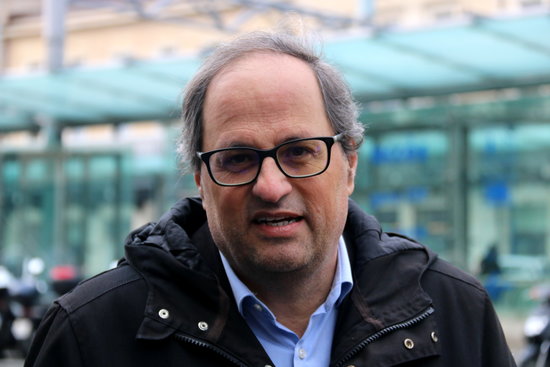 Quim Torra, newly elected Catalan president-elect, reacted to the news that Brussels had rejected the European arrest warrant issued by Spain against the three deposed ministers Toni Comín, Meritxell Serret, and LluíS Puig. "As in Belgium," Torra celebrated on Twitter, "justice will win in Germany, Scotland, and Switzerland," referring to the fact that there are also extradition orders for other Catalan officials open in these three countries, including for the deposed Catalan president himself. This is the first of the arrest warrants to receive a final decision. Torra further expressed "happiness" and wanting "to hug" the three officials in Belgium.
The Catalan Parliament speaker, Roger Torrent, celebrated the Belgian court's decision to reject the extradition of the three Catalan leaders in Brussels. "Congratulations, Toni Comín, Meritxell Serret and Lluís Puig," he added. "This is good news that shows these accusations to be false," wrote Torrent on Wednesday via Twitter.
"Rights are guaranteed beyond political opinions," says Puigdemont
The deposed Catalan president, Carles Puigdemont, reacted similarly to the news on Twitter. "This is good news that shows that, in Europe, rights are guaranteed beyond political opinions," he said. Puigdemont himself is pending the final decision of a German court on his extradition. The European arrest warrants issued by Spain have been dismissed for having "procedural defects" and "irregularities" in Belgium. The Spanish judiciary issued an identical arrest warrant for Puigdemont and two other officials: Clara Ponsatí (Scotland) and Marta Rovira (Switzerland).
The main pro-independence parties expressed happiness at the news coming from Belgium, with Esquerra (ERC) and Junts per Catalunya (JxCat) saying that "Spain's judiciary has been exposed for what it is". "We continue demanding freedom for all those incarcerated," the Esquerra party expressed through their Twitter account.
"Evidence of a failure"
Catalunya en Comú-Podem (CatECP), not aligned with either the pro-independence or the unionist blocs, also criticized the Spanish judiciary and government. "This is an embarrassment for judge Llarena [in charge of the independence case], once more, a failure of [his] strategy of doing politics from justice," said MP Marta Ribas. "But this is also evidence of another failure: not doing politics from where it should take place," she added referring to political leaders in Spain. According to her, "it is unjustifiable that pre-trial imprisonments are kept in Spain."