Exiled Catalan MEPs-elect ask EU high court to let them take up their seats
Unable to attend EU parliament, Puigdemont and Comín file suit in the EU Court of Justice, with decision "soon" expected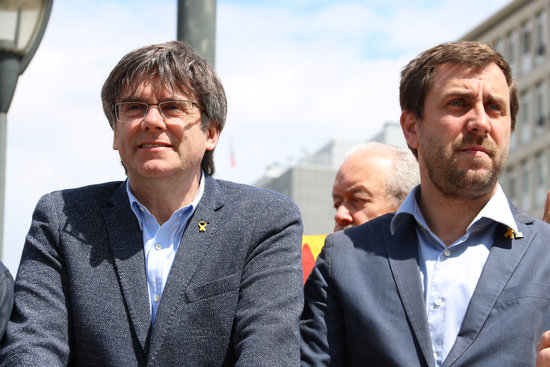 Two exiled former Catalan officials who were elected MEPs in May's EU election have lodged an appeal in the European Court of Justice asking that they be allowed to take up their seats in the European Parliament.
Former president Carles Puigdemont and former minister Toni Comín have been unable to take up their seats because chamber president Antonio Tajani has refused to recognize them as elected MEPs.
Spanish MEPs must complete an accreditation procedure in Madrid in order to take up their seats, but Puigdemont and Comín were unable to return to Spain, where they would be arrested over the 2017 independence bid.
With the inaugural session of the EU parliament set to take place on Tuesday, sources from the EU court told the Catalan News Agency that a decision on the appeal would come "soon" and that it "it will not take weeks or months."
Puigdemont: "This is a European affair"
On social media, Puigdemont described the court's decision to admit the appeal "a good start" and said accepting the appeal showed that the issue is a "European affair that concerns the European judiciary."
After Puigdemont and Comín, and jailed former vice president Oriol Junqueras, were unable to complete the accreditation process, the Spanish authorities declared their seats vacant and their names were not on the list of Spanish MEPs sent to Brussels.
Puigdemont's lawyer, Gonzalo Boye, on Monday accused Tajani of "depriving elected MEPs of their right to passive suffrage" and preventing them from "acting as representatives of a national minority." Over a million people voted for the two candidates.
On Friday, Puigdemont and Comín issued a joint statement saying Tajani had ignored all the letters they had sent him, and warning that it "will not avoid a formal response from the European judicial authorities to this serious violation of fundamental rights."