EU parliament president to announce stance on jailed MEP-elect on Monday
David Sassoli will share thoughts in chamber plenary session in Strasbourg, as Puigdemont will make debut as Member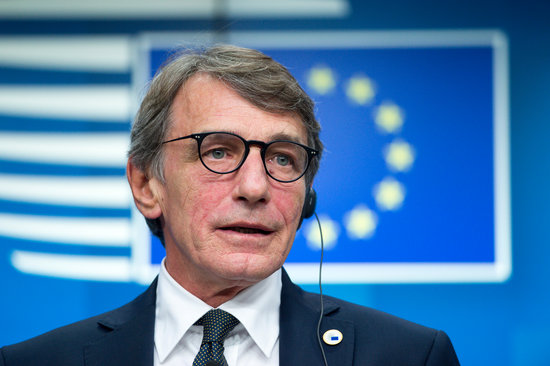 The EU parliament president will announce his stance on the jailed MEP-elect Oriol Junqueras on Monday.
David Sassoli will share his position in the chamber's plenary session in Strasbourg, after the Supreme Court said Junqueras has no right to be Member of the EU chamber - although Sassoli had greenlighted him following a EU court ruling.
The upcoming plenary session will see former Catalan president, Carles Puigdemont, and former minister Toni Comín make their debut as MEPs after also being accepted by the chamber. While they are in exile and able to travel, Junqueras is imprisoned in Catalonia.
Elsewhere on Friday morning, the European Commission announced that they are "studying the legal situation" in the case of Junqueras, and reminded that "member states must comply with the decisions and the rules taken by the Court of Justice."
The EC spokesperson also clarified that "there is no question that the preliminary rulings of the Court of Justice are binding on national authorities and courts."
"We note that the preliminary ruling of the European Court of Justice raises novel and complex legal issues" which are for "the European Parliament and the national courts to assess," another spokesperson added.
Junqueras' immunity case
The ERC head was elected as a Member of the European Parliament in the May European election, but was prevented from leaving prison to swear the oath and take up his seat, as he was in provisional jail during the time his trial for his role in the 2017 independence push was ongoing.
His legal team argue that Junqueras should have been freed on the basis that he enjoyed parliamentary immunity from the moment he was announced a winner in the election, and the European Court of Justice backed this position up in December.
On Thursday, the Spanish Supreme Court again rejected Junqueras his release and immunity after considering the European ruling, arguing that the question of his immunity is no longer applicable as he has already been convicted and disqualified from public office.
While the EU court ruling stated that he should have been freed in June, it did not explicitly rule on his current post-verdict status.