EU Parliament bans Puigdemont conference over 'security threats'
Conference by Catalan president and exiled pro-independence leader sparked outrage among unionist parties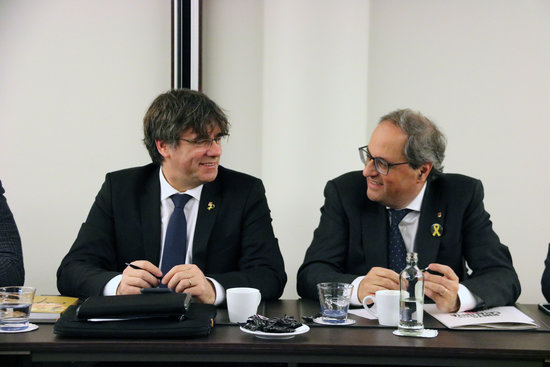 The European Parliament has canceled a conference by the Catalan president, Quim Torra, and his predecessor and pro-independence leader in exile, Carles Puigdemont, citing "security threats."
The conference was due to take place in a room of the chamber in Brussels next Monday, but the parliament decided to cancel it saying there was a "high risk" that the event "could pose a threat to the maintenance of public order on the parliament's premises."
The chamber detailed its decision in a press release: "The assessment takes into account several elements, including the recent occupation by protesters of the European Parliament and Commission buildings in Barcelona, the tensions linked to the trial against Catalan pro-independence leaders that started on February 12, the lack of information on the participants at the event and, especially, the possibility of incidents within or around the Parliament premises."
Unionists demand conference ban
Spain's three largest parties opposing Catalan independence had sent a letter to the parliament president, Antonio Tajani, urging him to prohibit the event on the grounds that Puigdemont planned to "overthrow Spain's constitutional order."
"Allowing Puigdemont's presence is not compatible with the noble role of the European Parliament as an example of democracy and rule of law in force in the EU," said MEPs from the Socialist, People's, and Ciutadans parties.
The topic of the conference was the trial against the independence bid, and was organized by the EU-Catalonia dialogue platform's spokesperson, Ivo Vajgl, and the Flemish N-VA party.