Donald Tusk could lead mediation, says Puigdemont
In his new book, the Catalan leader proposes a referendum in all of Spain, regrets the EU's "silence" and claims his life is "in danger"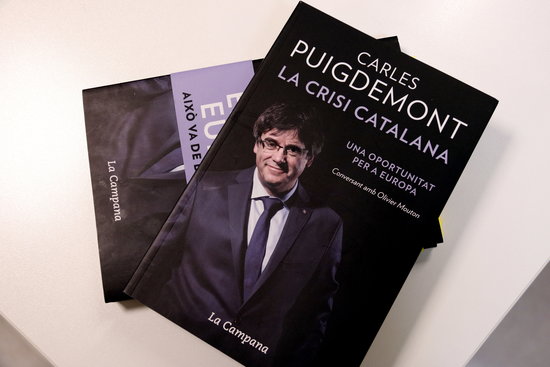 The former Catalan president, Carles Puigdemont, thinks that international mediation in the conflict between Catalonia and Spain might be the way out of the political crisis affecting both territories.
And in a book released on Tuesday, Puigdemont suggests that the European Council president, Donald Tusk, should be the person to lead this mediation, which should be "discreet" and not "public."
"He is the only one who has spoken of it in a correct manner," he claims.
Tusk reportedly spoke to Puigdemont on October 10, 2017, right before the moment when the then Catalan president was expected to declare independence, which in the end was delayed.
In the book, 'The Catalan Crisis, an Opportunity for Europe,' which is a result of conversations between Puigdemont and the Belgian journalist, Olivier Mouton, the pro-independence politician also regrets the European Union's "official silence" in reaction to Spanish police violence on the day of the unilateral referendum on October 1 last year.
"Europe should have said something, it was its duty," says Puigdemont.
Dialogue and referendum offer
Puigdemont also offers dialogue and proposes a referendum on Catalonia's independence in Catalonia, or even in the whole of Spain, as a solution to the issue.
"We should not be the ones who propose another roadmap. We have done it several times, we have made several proposals respecting the constitutional path, but Madrid has rejected them all. Now it is time for Spain to be creative; otherwise we will continue fighting for an independence that is recognized by international law through the ruling of the International Court of Justice on Kosovo."
Personal reflections
The Catalan leader also makes more personal reflections in the book. "I am ready to live incarcerated in Spain, if necessary," he says, although for him that would make it more difficult to find a solution.